Apple to Address iPhone 15 Pro Overheating Issue With iOS 17 Update
Apple plans to release an iOS 17 update to address a bug that may contribute to the reported iPhone 15 Pro and iPhone 15 Pro Max overheating issue, according to a statement the company shared today with MacRumors and Forbes reporter David Phelan.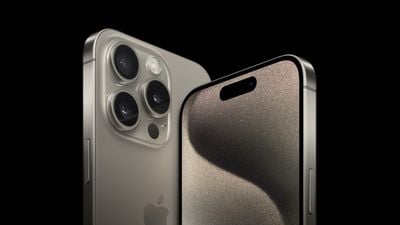 Apple also says some recent updates to third-party apps have overloaded the system and contributed to the overheating issue. The report notes that some of these apps include Instagram, Uber, and the racing game Asphalt 9: Legends, and Apple is working with the developers of these apps to address the issue. The report adds that Instagram already introduced a fix as part of an update to the app released on Wednesday.
Apple says iPhone 15 Pro models may run warmer than expected during the first few days after setting up or restoring the device due to increased background activity. This is standard behavior for new iPhones and only a temporary condition.
Apple's statement:
We have identified a few conditions which can cause iPhone to run warmer than expected. The device may feel warmer during the first few days after setting up or restoring the device because of increased background activity. We have also found a bug in iOS 17 that is impacting some users and will be addressed in a software update. Another issue involves some recent updates to third-party apps that are causing them to overload the system. We're working with these app developers on fixes that are in the process of rolling out.
The bug should be fixed with iOS 17.1, which is currently in beta and is expected to be released in late October. It's quite possible that Apple might also make a bug fix available sooner with a smaller software update, such as iOS 17.0.3.
According to the report, Apple will not be reducing the performance of the A17 Pro chip as part of the temperature-related bug fix. Apple also said the issue is not a safety risk and will not impact the long-term performance of affected iPhones.
Apple said the iPhone 15 Pro's titanium frame and aluminum substructure do not contribute to the overheating issue, ruling out a hardware problem.
Not all iPhone 15 Pro and Pro Max users have experienced overheating, and it's unclear how many customers are affected by the issue overall, but it should be resolved soon.