WhatsApp Gets 'HD Photos' Option for Sending High-Res Images
WhatsApp has released an update allowing iPhone and Android users to send photos over the messaging platform in high resolution, finally addressing the service's low quality image sharing limitation.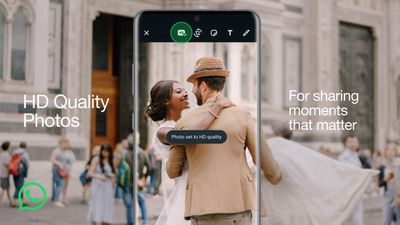 Previously, WhatsApp users sending photos would see the images automatically compressed and the resolution reduced to 920 x 1280 to save storage space and keep image-sharing fast over low bandwidth data connections.
After updating, they'll have the option to send images to friends and family in "HD quality," which equates to 3024 x 4032 resolution. The rollout of the feature was announced by Meta CEO Mark Zuckerberg via a Facebook post.
Version 23.16.0 of the app adds a "HD" button at the top of the photo sharing screen, next to the other image editing tools. Tapping the HD button brings up a pop-up allowing users to switch from the default Standard Quality to HD Quality.
Recipients of HD photos will see a HD label in the corner of the image, indicating that they have received a higher quality version, and all high resolution images are protected under WhatsApp's end-to-end encryption.
According to Meta, if a user's internet connection is low bandwidth, they will receive photos in Standard Quality, and will be able to choose to keep the standard version or upgrade it to HD where available.
The new feature is rolling out globally over the next few weeks, and Meta says the ability to send high resolution videos over WhatsApp is set to follow soon.