MicroLED Apple Watch Ultra Now Rumored to Launch in 2026, Not 2025
Apple is known to be working on an updated version of the Apple Watch Ultra that uses a next-generation microLED display, but the device has again been postponed due to manufacturing issues, according to market research firm TrendForce (via The Elec).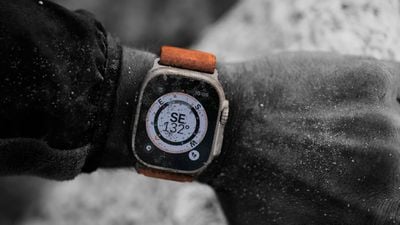 Information shared in April by display analyst Ross Young suggested that an Apple Watch Ultra with microLED display would launch in the second half of 2025 at the earliest, rather than late 2024 as was originally rumored.
Now, TrendForce believes it has been postponed for a second time and is unlikely to emerge before the first quarter of 2026, because of problems relating to high manufacturing costs which need to be solved before Apple can proceed to mass production.
Apple has reportedly invested more than $1 billion on in-house microLED development over the past decade to reduce its dependence on Samsung Display and tighten control over the supply of key components in the display panel sector.
The ‌Apple Watch Ultra‌ is expected to be the first Apple device to adopt a microLED display. The current ‌Apple Watch Ultra‌ uses standard OLED technology, whereas MicroLED offers many of the benefits of OLED along with some improvements.
Compared to LED displays, microLED is much more energy efficient and it would likely notably increase battery life on the ‌Apple Watch Ultra‌ and other devices that adopt the technology in the future. Unlike OLED, there's much less risk of screen burn-in, and microLEDs have a longer potential lifetime.
MicroLED displays also provide contrast improvements and faster response times because of the pixel-level individual lights, plus the color is better and brighter. In a nutshell, it's a next-generation technology superior to OLED and miniLED.
Apple is already testing microLED displays for the Apple Watch, and the displays are said to feature brighter, more vibrant colors and a look like content is "painted on top of the glass." Apple is planning to bring the technology to the iPhone and other devices in the future.
As with all early rumors about devices that are a year or two or more out, they can be unreliable in terms of launch timing, as Apple often has to push back its release dates due to delays in design, component sourcing, manufacturing, and more.