Vision Pro Features 'Left Out' For Now Include Fitness Apps, Full-Body Tracking, and More
The Information's Wayne Ma today reiterated several features that Apple apparently developed but did not announce for the Vision Pro at WWDC earlier this month, including various fitness and wellness apps, full-body tracking, and more.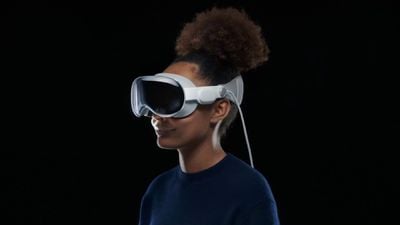 Ma said some of the features could remain in development, while others may have been abandoned. Apple is not releasing the Vision Pro until early 2024, and has yet to reveal complete details about the device, so there may be additional features that will be available at launch. Apple can also add features with visionOS software updates.
On fitness and wellness apps:
At one point, though, Apple planned many more fitness and wellness applications for the headset, according to former employees who worked on the device. Some employees discussed collaborations with brands such as Nike for working out with the headset, while others investigated face cushions that were better suited for sweaty, high-intensity workouts, said one of the people. One proposal even involved wearing and interacting with content on the Vision Pro while on a stationary bike, a former employee said.
On full-body tracking:
Apple has yet to complete full-body tracking, which it had planned for the device, according to multiple people who worked on it. That feature is among the reasons the device has two cameras that point downward and can see the wearer's body and hands. Apple representatives told developers earlier this month that full-body tracking wouldn't be available when the device ships next year, according to screenshots of an Apple-hosted Slack conversation following the Vision Pro launch event.
The report added that Apple had planned to make 3D content available on Apple TV+, but that could be announced later. Apple also apparently did not emphasize gaming on the Vision Pro as much as it was planning to at an earlier stage, and the ability to use the headset as an external display for a Mac is apparently not as advanced as once planned.
The full article at The Information offers more details. Over the coming months, the Vision Pro's full feature set should become clearer.