watchOS 10 Extends Optimized Charge Limit to More Apple Watch Models
With watchOS 9 on the Apple Watch Ultra, Apple introduced a new battery feature called Optimized Charge Limit, which uses on-device machine learning to analyze your daily usage and dynamically set a maximum charge limit for your watch.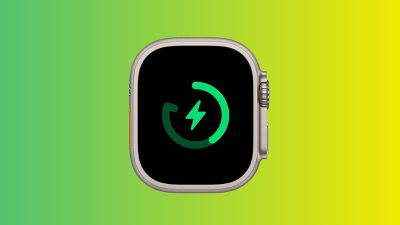 Available now as a developer beta and coming to all users later this year, watchOS 10 will extend this Optimized Charge Limit to additional Apple Watch models, including Apple Watch SE, Series 6, Series 7, and Series 8. Any new models released later this year alongside the public release of ‌watchOS 10‌ will undoubtedly also support the feature.
Optimized Charge Limit is an extension of the Optimized Battery Charging feature that waits to fully charge your battery until just before your device expects you to need your Apple Watch, in order to limit battery degradation due to overcharging. Optimized Charge Limit augments this by predicting how much battery life you are likely to need on any given day and only charging up to a level sufficient for your expected needs.
As a result, on some days your Apple Watch may charge all the way to 100%, while on other days it might charge to only 80% or 90%. The feature is optional but on by default, and it only engages in locations where you spend a lot of time such as at home or at work, recognizing that less frequently visited locations are more likely to have unpredictable impacts on your watch usage and charging patterns.
You can also manually override a planned Optimized Charge Limit by tapping the open charging icon after connecting to a charger and selecting the "Charge to Full Now" option.
For more details on how to manage Optimized Charge Limit, check out our how-to on the feature.