Polestar 2 Software Update Brings Wave of New Apple CarPlay Features
Swedish automaker Polestar today announced that it is releasing a software update to all existing Polestar 2 vehicles to add new Apple CarPlay features, including full-screen Apple Maps in the driver display.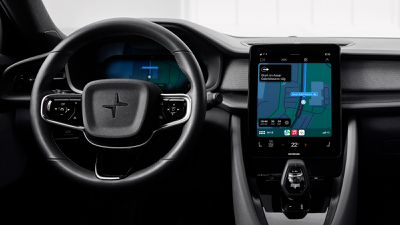 Polestar and its parent brand Volvo, which announced this update a couple of weeks ago, appear to be the second automaker to support display of ‌Apple Maps‌ and navigation information projected from ‌CarPlay‌ in the driver display. BMW was the first automaker to include the extended CarPlay feature in its Polestar 2 rival, the BMW i4, in 2021.
Some vehicles with Apple ‌CarPlay‌ already feature limited turn-by-turn directional information fed from ‌Apple Maps‌ on the driver display, but full integration of ‌Apple Maps‌ into the instrument cluster is still very uncommon.
The P2.9 over-the-air update also brings additional phone and media information from Apple ‌CarPlay‌ to to the Polestar 2's home screen tile, support for managing phone calls in Apple ‌CarPlay‌ using the steering wheel buttons, and projection of calls in the driver display.
In addition, the update includes improvements to Polestar's Range Assistant app and the introduction of an integrated YouTube app. The new ‌CarPlay‌ experience and the YouTube app will be installed by default on all newly produced cars.
Apple ‌CarPlay‌ in the Polestar 2 remains wired only, with no support for wireless ‌CarPlay‌. The Polestar 2 also does not support Apple's EV routing and state of charge integration features, as offered on the Ford Mustang Mach E and Porsche Taycan.
Update: Updated to note that Volvo also announced these features with the same software version.