Adobe Adds New AI-Powered Text-Based Video Editing Feature to Premiere Pro
Ahead of the 2023 NAB Show that takes place from April 15 to April 19, Adobe has announced updates to some of its Creative Cloud apps, including Premiere Pro and After Effects.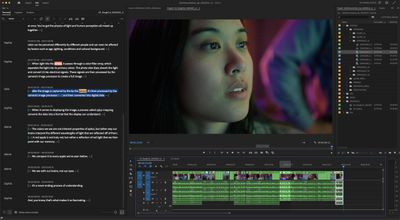 Adobe says that the new Premiere Pro is the "fastest and most reliable version" to date with background auto save, system reset options, additional GPU acceleration, and more.
The update introduces an Adobe Sensei-powered Text-Based Video Editing option that is able to automatically analyze and transcribe clips so editors can copy and paste sentences in any order they want and see them appear that way on the timeline. Videos are essentially turned into searchable transcripts with specific words and phrases able to be matched for quicker video editing.
Automatic Tone Mapping and log color detection functionality lets editors mix and match HDR footage from different sources into the same SDR project without the need to use LUTs or manually balance footage to get consistent color.
Other new features include Sequence Locking for collaborative editing, presence indicators to see who is online, and Work While Offline to allow editors to work on collaborative projects offline and later publish changes without overwriting others' work.
As for After Effects, there's a new Properties Panel that provides quicker access to key animation settings. The panel is context-sensitive, and will automatically show users the most important controls based on selections. Adobe has also included performance optimizations such as a faster timeline layer selection and multi-frame rendering of shapes, along with new keyboard shortcuts for Selectable Track Mattes.
The latest versions of Premiere Pro and After effects, including beta versions of the Text-Based Editing and Automatic Tone Mapping, will be available starting in May 2023. More information can be found on Adobe's website.