Apple Researching AirPods Case With Built-in Interactive Touchscreen
Apple has designs on a future AirPods case featuring a built-in touchscreen display that would enable users to control audio sources and interact with apps associated with the connected device, according to a newly published patent.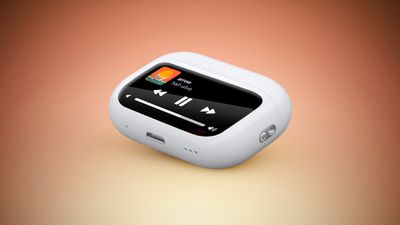 Filed by Apple in September 2021 and published last week by the U.S. Patent and Trademark Office, "Devices, Methods, and Graphical User Interface Interactions with a Headphones Case" clearly depicts various embodiments for such a design, complete with images of AirPods and a touchscreen on the case's front.
"Audio output device cases are commonly passive devices used to charge audio output devices," reads the patent. "The utility of a headphone case can be enhanced, and user control over a user's wireless headphones can be improved, by configuring a headphone case with an interactive user interface to enable user control of operations associated with the wireless headphones." The patent continues:

There is a need for a headphone case device that can control operations that are traditionally associated with headphones (e.g., playback controls, changing audio sources, changing audio output modes, etc.). There is a further need for a headphone case that can also convey information to a user, through haptics and/or display devices. Such methods and interfaces optionally complement conventional methods for controlling wireless headphones. Such methods and interfaces reduce the number, extent, and/or nature of the inputs from a user and produce a more efficient human-machine interface.
In one embodiment, Apple envisions controlling Apple Music via the case through the use of a capacitive touchscreen with a GUI that also provides tactile feedback, allowing the user to control audio playback, adjust volume, favorite songs, and interact with their music in other ways without necessarily looking at the case to do so.


In another embodiment, the case responds to specific gestures such as taps and swipes to navigate onscreen content and invoke Siri. In one scenario, Apple describes how squeezing the case could even be a way to change the listening mode of the AirPods – likely referring to Noise Cancelation and Transparency.
Apple suggests that the case could include additional processors and memory modules that would allow it to carry out specific instructions that are traditionally associated with smartphones, computers, and other connected devices. For instance, some embodiments show the case's touchscreen providing interactive access to iPhone apps including Phone, Mail, Messages, Camera, Calendar, Weather, Maps, and more.
By integrating an interactive touchscreen display in such a way, the patent argues, "deficiencies associated with user control of wireless headphones are reduced or eliminated."


As with any filed patent, the technology it describes is unlikely to appear in a product anytime soon, if at all, but it does offer an interesting look at how Apple is exploring ways to make an AirPods case more of a functional intermediary between the AirPods themselves and the connected audio source.
Since the first AirPods launched in 2016, Apple has worked to enhance the functionality of the AirPods Case for different models. The AirPods Pro case in particular has benefited from the addition of MagSafe wireless charging, a U1 Ultra Wideband chip that supports Precision Tracking with Find My, a lanyard loop, a built-in speaker for locating and status updates, and increased battery life.
(Via Patently Apple.)