Report Highlights Danger of Using AirTags for Tracking Dogs
AirTags may be a convenient way for tracking dogs that might get off leash or otherwise lost, but there are dangers associated with the practice, as outlined by a report from The Wall Street Journal.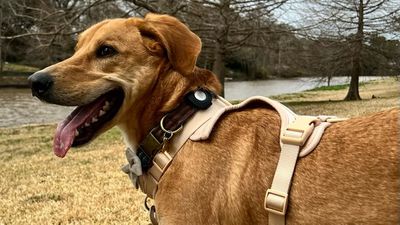 At 1.26 inches in diameter, ‌AirTags‌ are able to fit easily on a dog's collar, but that size also makes the tracking devices small enough to swallow, at least for a medium to large-sized dog, and a quick internet search indicates multiple incidents where dogs gobbled up an AirTag.
Dog owner Colin Mortimer told The Wall Street Journal that the AirTag on his dog Sophie's collar went missing. He tracked it with the Find My app and was able to get it to play a sound, with the beeping coming from the stomach of his other dog, Sassy. Sassy was able to throw the still-functioning AirTag up, but sometimes these incidents can require surgery.
This dog came to AMC's ER after ingesting a foreign object. 🔎 Can you tell what he ate based on this x-ray? ⬇️ Guess in the comments and we will reveal the answer tomorrow! (The object was endoscopically removed and the pup is feeling better. 😌) pic.twitter.com/B9XlYEWpAa — The Schwarzman Animal Medical Center (@amcny) June 30, 2022
Over on Reddit, a user's doberman
swallowed an AirTag
, while another user reported watching a dog at the dog park
eat an AirTag
. A
MacRumors
reader
also saw
a swallowing incident with a dog and an AirTag, suggesting accidental AirTag consumption by dogs
is not super rare
. In fact, a Louisiana vet told
The ‌Wall Street Journal‌
that he had treated six dogs that had swallowed an AirTag in the last 18 months, and in each case, the AirTag had initially been attached to the dog's collar.
Apple does not recommend that ‌AirTags‌ be used for tracking pets or children, and in fact, has said that it is not something that
people should do
, as ‌AirTags‌ were designed for tracking items rather than living creatures. ‌AirTags‌ that are swallowed may pass safely through a pet's digestive system, but there can be complications if the AirTag should come apart.
There is a CR2032 battery inside the AirTag, and if damaged, some batteries can leak a caustic substance that can damage a pet's stomach or mouth, if the battery is chewed, or lead to poisoning. Ann Hohenhaus, a senior veterinarian at the Schwarzmann Animal Medical Center in New York said that if a dog eats an AirTag, it needs to come out "as quickly as possible."
Dog owners who do attach an AirTag to a pet collar should look for one that is as secure as possible, with no hanging component that a dog is able to reach or chew through, such as the TagVault from Elevation Lab. There are many AirTag dog collar options on the market, but there is no oversight for these products nor does Apple recommend any of them, so they should be used with caution.