Apple Reportedly Plans to Expand iPhone 14's Satellite Feature to More Countries
All four iPhone 14 models include a new Emergency SOS via Satellite feature that is set to launch in November in the United States and Canada, and a new report today claims that Apple plans to expand the feature to additional countries over time.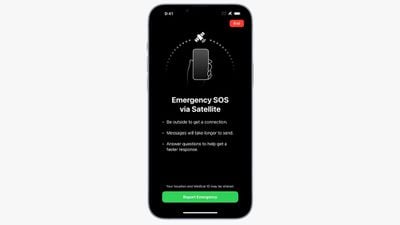 Apple reportedly informed Swiss website MacPrime that it plans to announce additional countries for Emergency SOS via Satellite later this year, followed by even more countries next year, but it's unclear exactly when the feature would actually launch in additional countries. We've reached out to Apple for comment on the matter.
Emergency SOS via Satellite is designed to allow iPhone 14 models to connect directly to a satellite, allowing users to send text messages to emergency services when outside the range of cellular and Wi-Fi coverage. When it launches in the United States and Canada, Apple says the service will be free for the first two years, which suggests that Apple might be planning to charge for the service at some point in the future.
Apple says that in "ideal conditions with a direct view of the sky and the horizon," a message might take 15 seconds to send, but notes it can over a minute for a message to send "under trees with light or medium foliage." On the iPhone, the feature helps users to orient their iPhone towards a satellite to establish a connection.
(Thanks, Steve!)