Plex Testing TV App Integration Across iPhone, iPad, and Apple TV
Plex this week began testing TV app integration on the iPhone, iPad, and Apple TV, as spotted by MacRumors readers Casey Bailey and Will Sigmon. The feature is available in the latest beta version of the Plex app through TestFlight.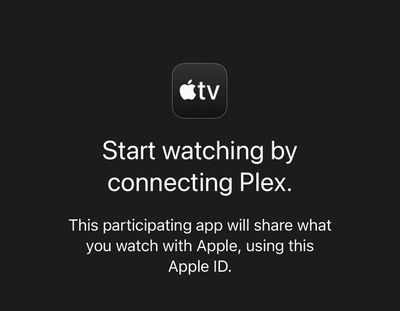 This integration will enable users to keep track of Plex's on-demand content in Apple's TV app across the iPhone, iPad, and Apple TV. Plex's on-demand content will be recommended in the TV app and also sync with a user's Up Next queue. Plex joins dozens of other providers offering TV app integration in the United States, such as HBO Max, Disney+, Amazon Prime Video, Hulu, Peacock, HGTV, NBC, A&E, The CW, MTV, Showtime, Starz, and others.
Plex is a popular media player that in recent years has introduced a growing library of free, ad-supported TV shows, movies, and other content from providers such as Warner Bros., Crackle, Lionsgate, MGM, and Legendary Entertainment. It is only this on-demand content that will be integrated in the TV app, and not a user's personal library of locally stored content, according to a Reddit user identifying as a Plex employee.
"This feature will only work with our free on demand movies and TV shows," the employee said. "We'd love to integrate personal media as well but that's not technically possible for a couple reasons. To make this work we provide Apple with a list of content we have available for streaming. As detailed in our privacy policy, we don't know what content our users have in their personal media libraries."
TV app integration will require version 7.14 of the Plex app or later, currently in beta testing. There is no timeframe for a public release yet.
Update: This article has been updated with clarification from a Plex employee that TV app integration will be limited to Plex's free, ad-supported video content from partners like Warner Bros., Crackle, and Lionsgate.