Apple to Donate $10 to National Park Foundation for Each Purchase Made With Apple Pay at Apple Stores Through August 30
Apple today announced that it will donate $10 to the National Park Foundation for each purchase made with Apple Pay on Apple.com, through the Apple Store app, or at an Apple Store in the United States from August 24 through August 30. Apple is limiting its donations to the first 100,000 transactions of $10 or more.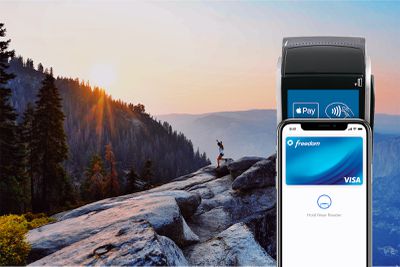 The National Park Foundation, the official charitable partner of the National Park Service, raises funds to directly support, protect, and manage America's national parks.
"Our national parks strengthen our connection to nature, to one another, and to the soul of our nation," said Apple CEO Tim Cook. "We're excited to continue building on our four-year partnership with the National Park Foundation, and to support their work to preserve our parks for generations to come."
As noted by Kyle Seth Gray, there will also be a national parks-themed Activity Challenge for Apple Watch users on August 30. Users can earn the award by completing a hike, walk, run, or wheelchair workout of a mile (1.6km) or longer. The workout can be completed from any location, so visiting a national park is not necessary.
All national parks across the United States will waive entrance fees on August 25 in celebration of the National Park Service's birthday.
Update: In a press release tied to this announcement, Apple has also indicated that it is making special national parks content available in the Apple TV app, Apple Music, and the App Store.
The Apple TV app will feature a national parks highlight on the Watch Now page, including "Aerial America" from the Smithsonian Channel, along with other relevant shows and movies that explore and celebrate the natural world. In the App Store, customers can check out a collection of its most popular apps for safely exploring the outdoors, including AllTrails: Hike, Bike & Run (AllTrails, Inc.), National Park Trail Guide (Adventure Projects Inc.), PeakVisor (Routes Software SRL), and other guides to parks and trails around the world. And Apple Music will feature its updated Nature Awaits playlist, so even if users can't make it out to the parks, they can hit play and let their imaginations wander.