A new slate of offers from popular U.S. cellular carriers has emerged this month, offering customers a chance to save money on their monthly cellular bill, smartphones, smart watches, and more. Because of the upcoming Valentine's Day holiday, some of the carriers are also offering special deals when purchasing two smartphones.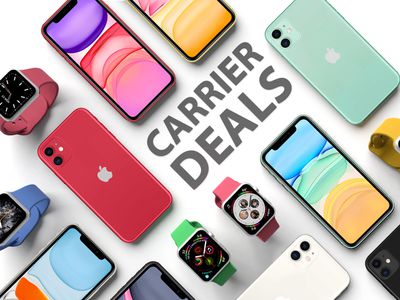 Note: MacRumors is an affiliate partner with some of these vendors. When you click a link and make a purchase, we may receive a small payment, which helps us keep the site running.

AT&T
AT&T's central offer is $500 off eligible iPhones when you add a line and trade in a qualifying device. If you plan on switching to AT&T and porting in your existing number, you can get as much as $700 off eligible iPhones.
iPhones that can be purchased with these offers include: 128GB/256GB iPhone 8 Plus, 128GB/256GB XR, 64GB/256GB X, 256GB/512GB XS, XS Max, 11, 11 Pro, and 11 Pro Max (priced up to $1450). The 64GB iPhone 8, XR, and XS are not eligible.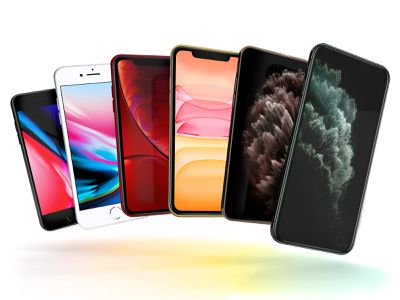 Once you purchase the iPhone, trade in an eligible device, activate service on an eligible AT&T unlimited wireless plan, and pay a $30 activation fee, you'll receive up to $700 in bill credits over 30 months. This means you could get the 64GB iPhone 11 at no cost, or you can opt for a more expensive iPhone 11 and pay the difference.
AT&T also has a few internet and TV bundles for those shopping around for more than just smartphones. You can get up to $350 in reward cards if you bundle AT&T internet and TV together. This requires purchase of qualifying AT&T TV package (minimum $49.99/month for 12 months) and 25M or higher Internet plan (minimum $40/month).

Verizon
Verizon has a Valentine's Day offer for two users interested in purchasing new iPhones together. If you buy one iPhone XS, iPhone XS Max, iPhone 11, iPhone 11 Pro or iPhone 11 Pro Max, you can get $700 off the second one.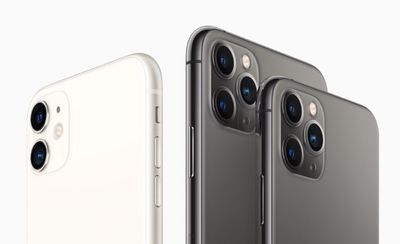 Both smartphones will need to be added to a monthly device payment plan, and they'll need to be added as a new smartphone line to your account on any Verizon Unlimited plan. Afterwards, you'll get $700 credited to your account over 24 months. With these savings, you can get a second 64GB iPhone 11 at no extra cost.
You can also choose to get up to $300 off with a select trade-in on Unlimited. You can trade in the iPhone 8 through iPhone 11 and put the trade-in amount towards a new upgrade, which will be credited to your account over 24 months.
Verizon has a few other notable deals on older iPhones and other devices. You can get the iPhone 7 for $5/month for 24 months (online only, new line required), or the iPhone 7 Plus for $10/month for 24 months. You can also save $100 off the 10.2-inch cellular iPad when purchased on a payment plan, or $250 off an iPad + iPhone combo purchase, all of which will be applied to your account over 24 months.

Sprint
Sprint has quite a few Apple-related offers for its customers. Starting with older models of iPhone, if you buy the iPhone 6s for $99.99 on Sprint's Unlimited Kickstart plan, you can get unlimited data, talk, and texting for $35/month.
For Valentine's Day, if you lease a 64GB iPhone XS, you can get another at no extra cost with Sprint Flex lease. Sprint will apply $37.50/month to your account, and this offer requires two new lines or one new and one upgrade, along with 18 month leases.



If you plan to switch to Sprint, you can get the 64GB iPhone XR for $15/month after $10/month credit is applied to your account over 18 months. Sprint also has an instant discount on the 256GB iPhone XR, marking it down by $150 if purchased on an 18-month lease and on a new line of service or with an eligible upgrade.
For the newest iPhone models, you can get the 64GB iPhone 11 for $0/month ($29.17/month bill credit) with a trade-in on Sprint Flex lease if you switch to Sprint. This requires an 18-month lease, new line activation, and approved credit.
If you're an existing Sprint customer, you can get the 64GB iPhone 11 for $15/month ($14.17/month bill credit), and this also require a new line on an 18-month lease.
Sprint also has the new 32GB 10.2-inch iPad for $4.17/month after $15/month bill credit is applied. You'll need a 24-month billing agreement and a new line on a qualifying plan that has one active handset. This offer covers all three colors: Space Gray, Gold, and Silver.
Lastly, if you're looking for an Apple Watch deal at Sprint, you can get any Apple Watch for 50 percent off via monthly bill credits after you purchase an iPhone (7 and above). This requires a 24-month installment agreement, new watch plan activation, and one active handset on the account.
You can also get a straight discount on the Apple Watch Series 4, with Sprint offering $275 off this model. The 40mm Series 4 is $7.29/month after $11.46/month bill credit, and the 44mm is $8.54/month after $11.46/month bill credit. These also require 24-month installment agreements on a new watch line of service that's added to a qualifying plan, which needs one active handset.

T-Mobile
T-Mobile is offering the 64GB iPhone 11 at no cost when you bring your number from another carrier and switch to T-Mobile, along with a qualifying trade-in. Like other carriers, this credit will be applied over 24 months, and qualifying iPhones range from the iPhone 6s to the XS family.
In other deals, you can get a third T-Mobile line for free when you join with two qualifying lines. For existing single-line or new customers who have a Magenta or Magenta Plus plan, you'll be able to obtain this offer when adding new lines for a limited time.
Be sure to visit our full Deals Roundup to shop for even more Apple-related products and accessories.