Throwboy, known for its Iconic Pillow Collection featuring a selection of plush pillows designed to look like Apple devices, today launched a new selection of mini pillows called the "Pocket Pillows."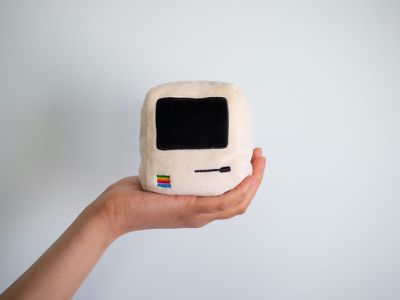 Like their larger-sized siblings, the Pocket Pillows are modeled after Apple devices. The first palm-sized pillows are made to mimic the 1984 Classic Macintosh and the 1998 iMac G3, and they can be ordered today on Kickstarter. Depending on how the campaign goes, additional classic Apple products could be turned into little desktop plushes.


Each plush is made from a soft, huggable material and is embroidered to resemble one of Apple's Macs. The detail for each pillow is impressive, with all ports, vents, drives, and other features sewn on. Inside the Pocket Pillow, there's a plush filling along with pellets to give them some heft.


Unlike the couch-sized standard Iconic pillows, the smaller Pocket Pillows are designed for a desk, shelf, or nightstand.


Pocket Pillows can be pre-ordered for $15 each, or $30 for two, though there are some early bird backing options that are a few dollars cheaper. We don't typically feature Kickstarter projects as many of them don't come to fruition, but Throwboy is an established manufacturer that already has a line of plushes available. Pocket Pillows are expected to ship out in May 2020.