Many Warner Bros Movies Have Reverted to HD Instead of 4K on iTunes and in User Movie Libraries [Update]
Over the course of the last week or so, multiple Warner Bros movies that were previously available in 4K have reverted to HD, a change that applies to new purchases from iTunes as well as previously purchased movies.
There are complaints about the change both on Twitter and on the Blu-ray forums, as highlighted by 9to5Mac this afternoon. There are quite a few titles that have reverted from 4K to HD, including all of the Harry Potter movies.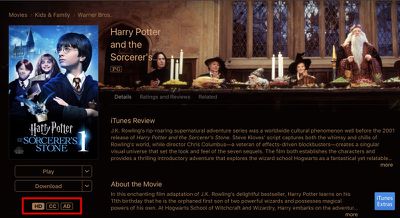 A Blu-ray forums user compiled a list of the known titles that have recently been downgraded from 4K to HD.
22 Jump Street (2014)
About Last Night
Aloha (2015)
American Sniper
Annie (2014)
Batman vs. Superman
The Brothers Grimsby (2016)
The Equalizer (2014)
Fast & Furious 6 (2013)
Ghostbusters II (1989)
Goosebumps (2015)
Harry Potter and the Deathly Hallows, Part 2 (2011)
Harry Potter and the Chamber of Secrets (2002)
Harry Potter and the Deathly Hallows, Part 1 (2010)
Harry Potter and the Goblet of Fire (2005)
Harry Potter and the Half-Blood Prince (2009)
Harry Potter and the Order of the Phoenix (2007)
Harry Potter and the Sorcerer's Stone (2001)
Harry Potter and the Prisoner of Azkaban (2004)
Hercules (2014)
Hitch (2005)
Hotel Deluxe (2013)
Matrix Reloaded
The Matrix Revolutions (2003)
Risen (2016)
Spaceballs (1987)
Taxi Driver (1976)
Unforgiven (1993)
The Walk (2015)
X-Men: Days of Future Past (2014)
It's not clear why these movies are no longer available in 4K, but there have been instances where movies are downgraded to HD and then are later made available again in 4K, so we'll need to wait to see if that's the case here.


One Apple support representative said that the downgrade was due to changes implemented by Warner Bros, which could potentially be accurate as that's often a reason why 4K availability shifts, but Apple support representatives don't always have the most up to date information.
Apple has been offering 4K movie titles from a range of different movie studios since the launch of the Apple TV 4K.
Update: This issue may be resolved as it appears many of the movies that were downgraded to HD are once again available in 4K.