Earlier this week, rumors suggested Amazon would launch a free, ad-supported music service, and today, Amazon indeed announced the debut of a free music option for Amazon Alexa users.
Alexa device owners in the United States who do not have a Prime membership or a subscription to Amazon Music Unlimited are now able to listen to an ad-supported selection of top playlists and stations at no cost with Amazon Music on the Amazon Echo and other compatible Alexa-enabled devices.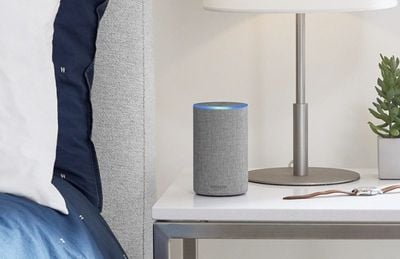 The new ad-supported service adds more utility for Alexa users who do not otherwise have access to a music subscription service.
Alexa users can ask Alexa to play stations based on songs, artists, eras, or genres, and can also ask to hear Amazon Music's top global playlists.
Amazon's free music offering is available alongside its Prime music service, which provides access to more than two million songs, and Amazon Music Unlimited, Amazon's on-demand music service priced starting at $9.99 per month ($7.99 for Prime members). Amazon Music Unlimited allows users to access more than 50 million songs.
Given the limitations of Amazon's new free ad-supported service for Alexa users, it does not appear that it will turn Amazon into a major Spotify competitor. Spotify has its own free ad-supported service and is one of the few music services to offer such an option.