Verizon Launches Free Version of Call Filter Service for Blocking Spam Calls
Verizon, one of the four major cellular carriers in the United States, today announced the launch of a new free version of its Call Filter service that will identify, filter, and block incoming spam phone calls.
Verizon has offered its Call Filter service for some time now, but prior to today, all of the filtering technology required a $2.99 per month fee.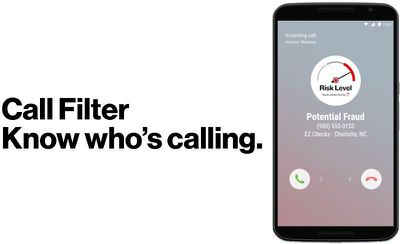 As of today, the spam detection, filtering, and number reporting features of the service are free, but there continues to be a $2.99 per month fee for Caller ID, a personal spam list, a personal block list, a risk meter, and spam lookup functionality.


For Verizon customers, the free call filtering option will provide alerts when an incoming call is likely a spam caller, it will report unsolicited numbers, and, if the option is selected, automatically block incoming robocalls.
All of Verizon's postpaid wireless customers with a compatible device are able to enroll, but the service is not available to prepaid customers.
Verizon says that in addition to making Call Filter free for all customers, it has made advancements towards blocking spoofed phone numbers. STIR/SHAKEN technology will verify that the phone number displayed on Caller ID is the phone number that has actually placed the call.
Verizon says this new call authentication standard will be deployed on the Verizon network in conjunction with other major carriers in the coming months.
"Far too frequently, customers tell me they want relief from the bombardment of bothersome robocalls," said Ronan Dunne, president of Verizon's consumer unit. "I'm confident that our new, free version of Call Filter and STIR/SHAKEN will put a big dent in the problem."
Verizon customers that want to sign up for the Call Filter service can do so through the Verizon website. The Call Filter app for iOS will need to be downloaded to unlock the full functionality.