Second Apple Employee Accused of Stealing Apple Car Details
The United States FBI this week accused a Chinese citizen working for Apple of attempting to steal trade secrets that are related to the company's autonomous vehicle program, reports NBC Bay Area.
Apple launched an investigation into the employee, Jizhong Chen, when another employee spotted him taking photographs "in a sensitive work space." Apple Global Security employees searched his personal computer and found "thousands" of Apple files, including manuals, schematics, photographs, and diagrams.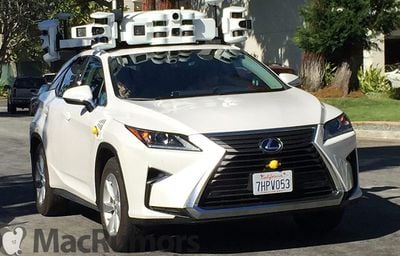 Chen had recently applied for a position with a China-based autonomous vehicle company that is a direct Apple competitor. Chen was arrested a day before he was set to fly to China. Apple in a statement said that it is working with the authorities.
"Apple takes confidentiality and the protection of our IP very seriously," the company said in a statement Tuesday. "We are working with authorities on this matter and are referring all questions to the FBI."
Interestingly, at least one of the photographs Chen took depicted an assembly drawing of an Apple-designed wiring harness for an autonomous vehicle, suggesting Apple's work does indeed go beyond simple autonomous software.
Apple's autonomous car plans have been up in the air for the last few years because the project has been restructured several times, has been put under new leadership, and many employees have been laid off or moved to other areas of the company.
There has been some question as to whether the Cupertino company is still planning a full autonomous car or if its focus has shifted to autonomous software, but the most recent rumors indicate a car is in the works with a launch planned for 2023 to 2025.
This is not the first time an employee has been caught trying to steal secrets from Apple's car team. Back in July, the FBI charged former Apple employee Xiaolang Zhang with theft of trade secrets for stealing hardware and software that included prototypes and detailed prototype requirements.