Apple Targeting Users of Older iPhones With iPhone XR Email Campaign
Apple continues to aggressively market the iPhone XR, with one of its latest tactics being customized emails to owners of older iPhone models with a trade-in value of the older device and a tech specs comparison with the iPhone XR.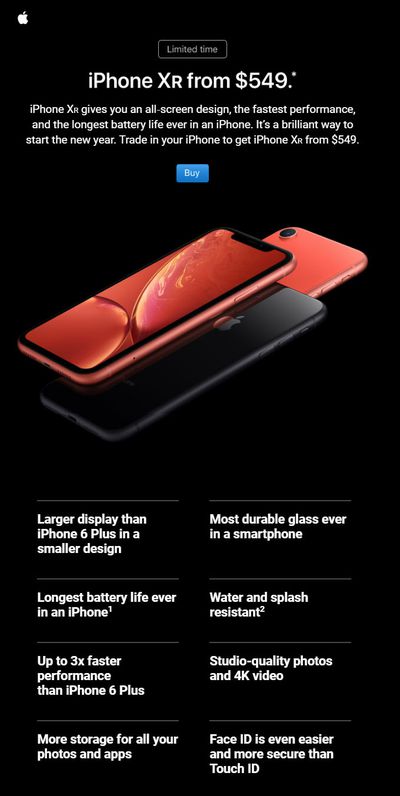 An email sent to an iPhone 6 Plus user, for example, advertises Apple's limited-time $200 trade-in offer for that device towards the purchase of an iPhone XR in the United States. The email also states that the iPhone XR is up to three times faster than the iPhone 6 Plus and compares other features.
Apple appears to have started sending out these emails late last year, but we saw several mentions of the campaign on Reddit and Twitter today, suggesting that Apple may have sent out a second wave of emails to additional customers.


Apple issued a rare revenue downgrade of up to $9 billion for the first quarter of its 2019 fiscal year, a move that it attributed entirely to fewer iPhone upgrades than it anticipated, primarily in the Greater China region. Apple believes simplifying its process of trading in a phone is one way it can improve its results.