LifeProof today announced the launch of a $99 Lifeactiv Power Pack 20, a 20,000 mAh battery pack that features a USB-C port and built-in water resistance.
The Lifeactiv Power Pack 20 includes two 10,000mAh batteries inside, and with the USB-C port, it can charge Apple's USB-C MacBooks, iPad Pro models, and iPhones with a USB-C to Lightning cable.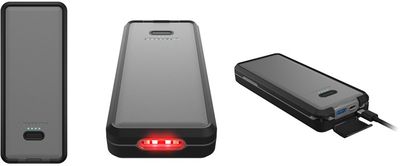 According to LifeProof, the Power Pack is waterproof in up to 6.6 feet of water for a period of one hour, drop proof up to 6.6 feet, and sealed from dirt and snow, making it an ideal battery pack for outdoor usage.
To survive a water drop and to keep it safe from liquids, the charging port door on the Lifeactiv needs to be closed before it's exposed to moisture.
The 20,000mAh Lifeactiv Power Pack 20 from LifeProof is available for purchase today for $99 from the LifeProof website.