Popular Mac-based photo and image editing software Pixelmator Pro received a significant update today, introducing several new features.
The update includes a wheel-like redesigned Color Balance adjustment option designed to offer a more "fluid and intuitive" way to adjust the color balance of photos. According to the Pixelmator team, the feature was inspired by professional video grading and editing tools.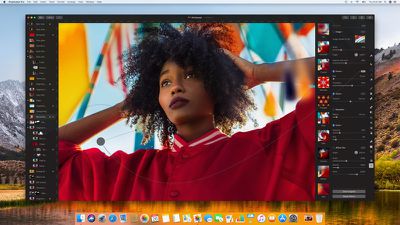 With the new color adjustment tool, users can add color tint to shadows, midtones, and highlights while also adjusting the brightness and saturation of the colors. Color Balance can also be improved automatically using a new Core ML-powered algorithm.
Today's update also allows users to resize images using scaling algorithms. The Lanczos algorithm, for example, better preserves small details when cutting down on the size of an image, while Nearest Neighbor allows for the resizing of pixel art while keeping the blocky design.
Two new Pixelmator Pro actions for Automator are included as well, as is a new Grain adjustment tool that adds frame-style grain in a "more natural and realistic way."
Pixelmator Pro recently won Apple's Mac App of the Year award for its range of professional level editing tools available at an affordable price.
Pixelmator Pro can be downloaded from the Mac App Store at a $29.99 price until Friday, at which point the cost of the app will go back up to $39.99. [Direct Link]