Video: Check Out This Custom Engraved $2,200 Gold-Plated Apple Watch Series 4
Apple no longer makes a super expensive version of its Apple Watch made out of 18-karat gold, but there are companies out there making custom Apple Watches with gold plating and intricate designs like Aurum Edition for people who just need something a little flashier than what Apple's offering.
Aurum Edition sent us one of its super fancy Monarch Counsel Apple Watches, which we went hands-on with in our latest YouTube video to see what the Apple Watch customizing business is all about.
There are multiple companies dedicated to designing high-end custom iPhone and Apple Watch models, and while such devices aren't for the average consumer, it seems creating ultra expensive hardware made from exotic materials is a lucrative business with a dedicated customer base willing to pay quite a lot of cash for a unique look.
The Apple Watch in the video is a 44mm Series 4 GPS-only model that's been overhauled with a custom-engraved gold plating with a floral pattern. It's plated in 24-karat gold that's 8 microns thick, which means it's durable and the gold isn't going to wear away.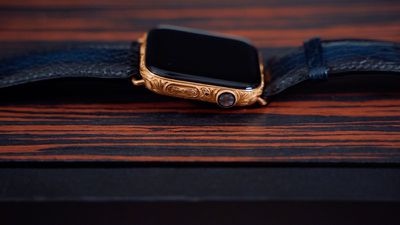 Aurum Edition engraves each custom Apple Watch that it designs by hand, and it takes 40 hours to do each one, which explains the high price tag. It takes a skilled, steady hand to do this kind of intricate work.
In terms of functionality, the custom design doesn't cover the Apple Watch Series 4's large screen or the sensors at the back for measuring heart rate, but it does impede the pressing mechanism of the Digital Crown just a bit, making it harder to press. It still works well when scrolling, though, and the haptic feedback feature in the new models is functional.


Such a fancy Apple Watch is, of course, accompanied by a fancy band made from a dark blue shark skin leather, and it ships in a high-quality wooden box for the kind of unpackaging experience you'd expect for $2,200.
Most of us here at MacRumors are tech focused, like to upgrade regularly, and aren't going to pay so much for an Apple Watch, but there are people out there who like this kind aesthetic and the work that Aurum Edition is doing is impressive.


It can't be easy to overhaul such a small device and have it remain functional, and it's certainly interesting to get a peek behind the curtain at what these kind of custom devices look like in person and how they're made.
Aurum Edition does make Apple Watch and iPhone models in other designs and from other high-end materials, like platinum, so if you're in the market for a super fancy Apple Watch or iPhone, check out the website.


Would you ever shell out so much extra cash for a custom Apple Watch? Let us know in the comments. Stay tuned to MacRumors, because next week we're also going to be taking a look at a custom-designed high-end uber-expensive iPhone from another company.