Twelve South today announced new additions to its Journal line of products, including Journal options for MacBook Air and MacBook Pro and a new Journal CaddySack for storing accessories.
The MacBook Journal, priced at $149.99, is designed to work with 13 and 15-inch MacBook Pro models and the new 13-inch Retina MacBook Air.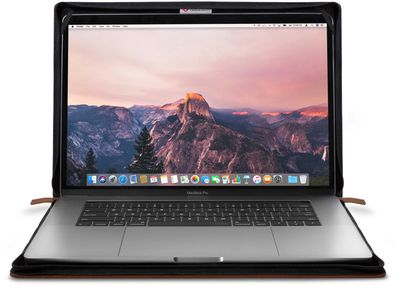 We had a chance to check out the Journal for MacBook ahead of its launch. It features rich, soft leather in a cognac color that will take on a unique patina as it ages, and the exterior, as the name suggests, looks like a journal complete with spine.
The leather exterior is accompanied by a soft black microsuede interior that keeps your MacBook from getting scratched and offers some light padding. When expanded, the bottom of the MacBook sits on top of the bottom of the Journal, while the top is held in place by two pieces of elastic.


Inside, at the bottom of the Journal case, there's a hidden interior pocket where you can keep documents safe. The entire Journal features a zipper closure with dual zippers so it won't come out during transport.


Twelve South is also introducing the Journal CaddySack, an alternative to the BookBook CaddySack it already offers. Priced at $90, the Journal CaddySack is designed to match the Journal for MacBook and the Journal for iPhone.
It too is made from a supple cognac leather that will develop a one-of-a-kind look over time, with an attractive gray tweed interior.


Several elastic and velcro straps inside of the CaddySack can hold a MacBook power adapter, charging cables, dongles, an Apple Pencil, and other accessories. There's also a zippered pocket at the top for other small odds and ends.


All of the straps inside of the CaddySack are adjustable, which gives you flexibility when deciding what you need to carry inside for day to day use. Like other Journal products, the CaddySack zips closed to protect everything located inside.
Twelve South's new Journal products can be purchased starting today from the Twelve South website.