Apple Says Battery Can Be Replaced Individually in New MacBook Air With Retina Display
Big news for repairability and environmental responsibility: the battery can be individually replaced in the new MacBook Air, according to Apple's internal Service Readiness Guide for the notebook, obtained by MacRumors.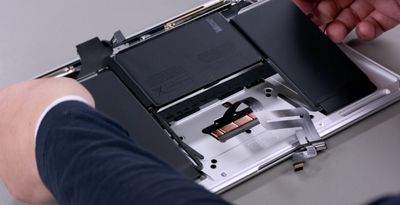 Apple demonstrating removal of battery in the new MacBook Air
In all other MacBook and MacBook Pro models with a Retina display released since 2012, when a customer has required a battery replacement, Apple has replaced the entire top case enclosure, including the keyboard and trackpad. This is because the battery is glued into the top case in Mac notebooks with Retina displays.
The battery in the new MacBook Air is still glued into the top case, the aluminum enclosure that houses the keyboard and trackpad, but Apple will be providing Genius Bars and Apple Authorized Service Providers with tools to remove the battery and reinstall a new one with no top case replacement required.
Once the new battery is installed, technicians are required to place the notebook in Apple's existing iPhone display press tool to activate the new adhesive. The glue strips are exactly the same as those used for iPhone batteries.
"This is a huge step forward," said Kyle Wiens, CEO of iFixit, a popular website dedicated to repairing Apple products. "Apple's glued-down battery design has been a challenge for consumers, recyclers, and for Apple's own technicians. Preserving the removability of the MacBook Air's battery is really important."
The trackpad in the new MacBook Air can also be individually replaced, according to the Service Readiness Guide, obtained from a reliable source.
We'll have to wait until iFixit tears down the new MacBook Air for a closer look inside the notebook, but Apple has presumably made design changes that allow for Genius Bars and Apple Authorized Service Providers to more easily replace the battery and trackpad, eliminating the need for a full-out top case replacement.
If there are indeed design changes, then Apple likely won't extend its new method to individually replace the battery to existing MacBook and MacBook Pro models with Retina displays, but it is certainly possible with next-generation models.
iFixit does have do-it-yourself guides for replacing the battery in MacBook and MacBook Pro models with Retina displays, which requires purchasing its battery replacement kit, but the process requires quite a bit of work and a careful hand. Do-it-yourself repairs also void Apple's warranty.
For comparison, the previous-generation MacBook Air has a screwed-down battery that can be removed and replaced by Apple and its service providers without a top case replacement, in line with other non-Retina notebooks.
In related news, Apple also states that replacing the Touch ID button on the new MacBook Air does not require a logic board replacement, but the notebook must pass Apple diagnostics in order for the repair to be completed.
Apple replacing the entire top case for a simple battery swap-out has always been a point of contention, so this change should be well received by the repair industry. It's also better for the environment, and will likely save Apple money, so it's a win-win-win. We've reached out to Apple for comment.