iPad Remained World's Most Popular Tablet Last Quarter While Huawei Topped Apple in Smartphones Again
Apple continued to lead the tablet market in the third quarter of 2018, with the iPad achieving "nearly double the shipments of its nearest competitor," according to data shared by research firm IDC today.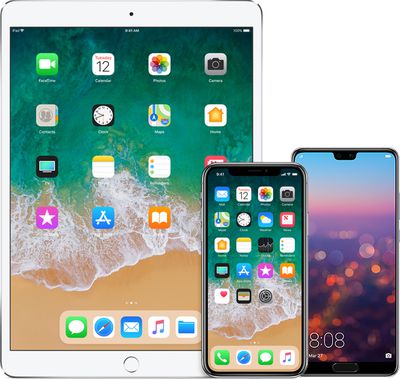 Apple on Thursday reported sales of 9.7 million iPads last quarter, giving it an estimated 26.6 percent share of the worldwide tablet market during the July-September period, according to IDC. Samsung finished runner-up with an estimated 5.3 million tablet shipments and 14.6 percent market share.
The worldwide tablet market declined 8.6 percent during the quarter, as global shipments fell to 36.4 million, according to IDC. Apple was not immune to the market contraction, as iPad revenue declined 15 percent last quarter on a year-over-year basis, according to the company's earnings report on Thursday.

Top Five Tablet Vendors, Worldwide Shipments in Millions, via IDC
Nevertheless, IDC believes the new iPad Pro with Face ID bodes well for Apple's sales through the holiday shopping season:
The refreshed $329 iPad with Pencil support that launched in late March continued to drive volume although it was unable to maintain the same momentum from the third quarter of 2017 as that was the first time in a while that Apple had released a lower cost iPad. iPad Pro saw year-on-year declines in anticipation of a refresh at the beginning of the fourth quarter, which bodes well for Apple through the end of the year.
iPad has remained the world's most popular tablet for several years, even as the market has declined. IDC senior research analyst Jitesh Ubrani believes Apple's continued focus on innovation and marketing has helped the company set itself apart from smaller rivals such as Microsoft, Amazon, and Huawei.
Notably, Microsoft did not crack the list of the top five tablet vendors based on shipments last quarter, according to IDC's data. An all-new Surface Pro launched in October, but that was after the quarter ended.
IDC also shared smartphone data for the third quarter today. Apple reported sales of 46.9 million iPhones last quarter for an estimated 13.2 percent market share, finishing behind Samsung and Huawei, which had estimated market shares of 20.3 percent and 14.6 percent respectively last quarter.

Top Five Smartphone Vendors, Worldwide Shipments in Millions, via IDC
Apple is typically the world's second largest smartphone maker, behind Samsung, but Huawei bumped it down to third for the second consecutive quarter. Nevertheless, IDC believes Apple could jump to first place next quarter thanks to anticipated holiday sales of the iPhone XS, iPhone XS Max, and iPhone XR.
Like the tablet market, the worldwide smartphone market also declined to the tune of six percent last quarter, according to IDC.