The iPhone XS and iPhone XS Max are now up for pre-order on Apple.com, and with the debut of new smartphones from Apple, all of the major carriers have also kicked off their own special offers for the devices. Below we've taken a look at the major iPhone XS-related deals from AT&T, Verizon, T-Mobile, and Sprint, so read on to see how you can save some money if you haven't yet purchased one of the latest iPhones.
AT&T

If you buy the iPhone XS with AT&T, you'll get another XS for $700 off if both are purchased on AT&T Next. The limited time offer requires a new line to be added onto a Next plan, and the $700 promotion will be applied over 30 months.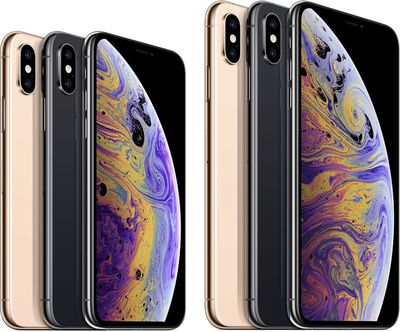 Note: MacRumors is an affiliate partner with some of these vendors. When you click a link and make a purchase, we may receive a small payment, which helps us keep the site running.
If you would prefer the second device in the BOGO deal to be an iPhone 8, you can also get the 64GB iPhone 8 ($599.99) or the 64GB iPhone 8 Plus ($699.99) for free.
AT&T notes that you can also receive the $700 as a credit towards a more expensive iPhone, including a 256GB iPhone 8 and 8 Plus, iPhone X, iPhone XS, or iPhone XS Max (priced up to $1,450). In these cases the second iPhone will be discounted but not completely free.
Head to AT&T for more details.
Verizon

Verizon essentially has the same offer as AT&T, allowing you to mix-and-match a BOGO deal where you can buy the iPhone XS, XS Max, X, 8, or 8 Plus, add a new line to one of the phones, and save $700 on the second. In Verizon's offer, the credit of $29.16 will be added to your monthly bill for the next 24 months.
This means that you'll pay full price for the two iPhones over 24 months, but then in one to two billing cycles you'll begin to see a credit of $29.16 added to your account. The iPhone 8 and 8 Plus in the deal are for the 256GB model, but if you opt for the 64GB option the credit placed on your account will be $24.99 per month.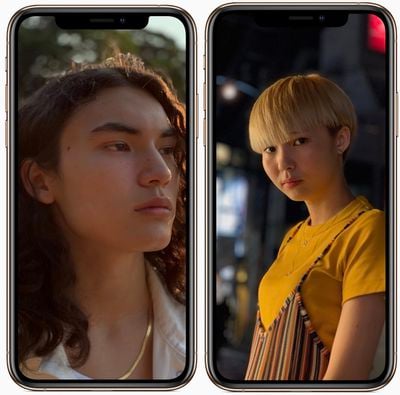 Alternatively, Verizon's second offer lets you save $100 with select trade-ins. When purchasing an iPhone XS, XS Max, X, 8, or 8 Plus with a select trade-in (that's in good working and cosmetic condition), you'll receive $100 over 24 months as a monthly credit. Verizon will send a prepaid package to mail the trade-in within 30 days at no cost.
The carrier notes that if your trade-in is valued at higher than $100 then you'll get the full value as an account credit, or new customers can get the full value as a virtual gift card sent two weeks after it receives your device.
Devices eligible for trade-in include: iPhone X, 8 Plus, 8, 7 Plus, 7, 6s Plus, 6s, 6 plus, 6, 5s and SE. Non-Apple devices include: Google Pixel 2, Pixel 2 XL, Pixel and Pixel XL; LG V30, V20, V10, G6, G5 and G4; Motorola Z2 Force, Z Force, Z2 Play, Z Play, Z Droid, Z Play and Turbo 2; Samsung GS9, GS9+, GS8, GS8+, GS7, 7 Edge, 7 Active, GS6, 6 Edge, 6 Edge+, 6 Active, GS5, GS4, Note 8, Note 5, Note 4 and Note Edge; HTC 10 and M9/M9+.
Head to Verizon for more details.
T-Mobile

At T-Mobile, if you buy an iPhone XS, XS Max, X, 8, or 8 Plus, you can save up to $300 through bill credits that expand over 24 months with an eligible iPhone trade-in. The new device must be purchased on one of T-Mobile's monthly payment plans, and the trade-ins are required to be in good condition, with values designated below:

- Devices in good condition for $300 value: iPhone 8, iPhone 7, iPhone 7 Plus

- Devices in good condition for $200 value: iPhone 6s, iPhone 6s Plus

- Devices in good condition for $100 value: iPhone 6, iPhone 6 Plus, iPhone 5, iPhone 5s, iPhone SE, iPhone 5C
If you meet all of these criteria, T-Mobile will add a credit of up to $12.50 on your monthly bill for 24 months, after one to two bill cycles following the trade-in shipping.
Head to T-Mobile for more details.
Sprint

Sprint has a few offers as well, with the 64GB iPhone XS available for $0/month or the 64GB XS Max for $4.17/month following an eligible trade-in. These include iPhone X, iPhone 8 Plus, iPhone 8, iPhone 7, iPhone 7 Plus, Samsung Galaxy S9, Samsung Galaxy S9+, LG G7 ThinQ, Samsung Galaxy S8, Samsung Galaxy S8+, Samsung Galaxy S8 Active, Samsung Galaxy Note8, Google Pixel 2, and Google Pixel 2XL.


With the value of the trade-in, you'll get $41.67 per month credit for both 64GB models of the iPhone XS and XS Max, applied within two billing cycles. The new devices must be purchased on an 18-month lease, with a new line and approved credit.
As a more basic offer, if you switch to Sprint you'll get $100 for each new line of service that you add when you lease a new smartphone. The credit will come in the form of a $100 Prepaid Mastercard for each new line that you add. Besides the lease, this deal requires online registration and 60 days of service before you see the card shipped.
Head to Sprint for more details.
Pre-orders for the iPhone XS and XS Max went up at 12:01 a.m. PDT earlier this morning, and shipping estimates for the bigger XS Max began slipping under an hour after orders went live. The new Apple Watch Series 4 also went up for pre-order at the same time today, and now almost all stainless steel Apple Watch Series 4 models are listing shipping dates of October 5 to October 12, with the exception of some 40mm models.
For more information on the iPhone XS, be sure to visit our full roundup.