Apple is partnering up with Akamai, Etsy, and Swiss Re to develop two new wind and solar energy farms in Illinois and Virginia, the companies announced today.
The new energy projects are set to generate 290 megawatts for the PJM electric grid in the Eastern United States, covering areas like Virginia, Illinois, Pennsylvania, New Jersey, and Maryland.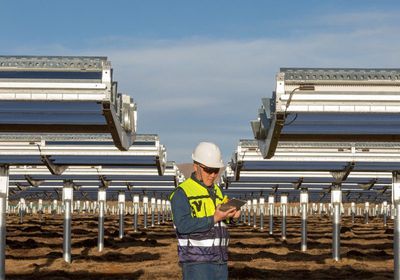 A solar farm in China


As a collective, the companies plan to purchase 125 megawatts from a wind farm near Chicago and 165 megawatts from a solar PV project outside of Fredericksburg, Virginia. The wind and solar energy farms will support each of the companies' operations in those states and will also offer up enough power for 74,000 homes.
According to the press release announcing the initiative, Akamai, Etsy, and Swiss Re previously had "limited opportunity" for energy projects in this market, but were able to obtain wind and solar power at competitive prices thanks to the collaboration with Apple.
Apple's vice president of environment, policy and social initiatives Lisa Jackson had this to say about the partnership:
"At Apple, we're proud to power all of our operations around the world with 100 percent renewable energy. In the process, we've charted a course for other companies and organizations to purchase renewable energy and transition their own operations to greener power. The collaboration announced today shows how companies of all sizes can address climate change by coming together."
The renewable energy projects are set to come online over the course of the next two years.
Apple earlier this year announced that all of its global facilities, including retail stores, offices, data centers, and more, are powered with 100 percent clean energy, a milestone Apple worked towards for years.
Apple has now turned its focus to encouraging its suppliers to focus on sustainability, and more than 20 have now committed to using renewable energy sources.