Apple Offering Pilot of Hulu's 'Castle Rock' Stephen King Series for Free in TV App
Apple is letting anyone in the United States with an iPhone, iPad, or Apple TV watch the pilot episode of Hulu's new series Castle Rock for free through its TV app. The episode is available now for users in the U.S., and it will live in Apple's TV app for two weeks (via Engadget).
This coincides with Castle Rock's premiere on Hulu today, beginning with the first three episodes available for Hulu subscribers to watch in full. Over the next few weeks, one episode will launch each Wednesday leading into the finale with the tenth episode capping the first season.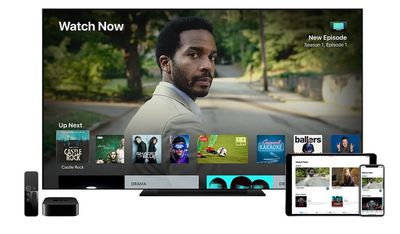 As Engadget points out, Apple's decision to promote the show makes sense as it's one of the most anticipated new series of the summer and should get more people to jump into the company's TV app ahead of the launch of its own exclusive shows next year. Apple says this is the first time it has debuted a new series before any paywalls in the TV app, and it already offers free episodes of its own shows like Carpool Karaoke in the app.
For the show itself, Castle Rock focuses on the life of a criminal law attorney who returns to his hometown of Castle Rock, Maine when a new case about a mysterious inmate emerges from the nearby Shawshank State Penitentiary. The show uses numerous stories and locations created by author Stephen King as the backdrop for new characters and a new story in the Maine town.
The episode has already launched, so those interested can watch the pilot of Castle Rock for free in Apple's TV app right now.