Future iPhones Could Use Samsung's Industry-First LPDDR5 DRAM
Samsung today announced it has completed functional testing and validation of the industry's first 10-nanometer class 8-gigabit LPDDR5 DRAM.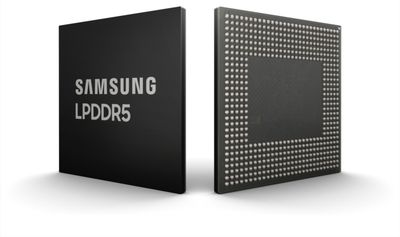 Samsung says the prototype chip boasts a data rate of up to 6.4 Gbps, which is 1.5 times as fast as the LPDDR4X DRAM used in the iPhone X and other flagship smartphones. The chip also features an all-new sleep mode and other features that reduce power consumption by up to 30 percent.
AnandTech has a good overview of the chip's technical details, but from a higher level, this development could result in future iPhones having even faster, yet even more efficient, memory. That would translate to maximized performance and extended battery life, which is good news all around.
Samsung said it plans to begin mass production of its next-generation DRAM lineups, including this LPDDR5 DRAM chip, but didn't specify when. LPDDR5 is said to be so cutting edge that the JEDEC standards group has not yet finalized the specifications for it, so it could take some time.
Apple currently sources DRAM from multiple suppliers, including Samsung, SK Hynix, and Micron, varying by iPhone model.