Just in time for the FIFA World Cup, which began today, live sports are now available in Apple's TV app on iPhone, iPad, and Apple TV in Canada.


At launch, Sportsnet, TSN, RDS, CBC, and DAZN will bring sports content from a large selection of major sports leagues to the TV app on iPhones and iPads with iOS 11.2 and later, the fourth-generation Apple TV, and Apple TV 4K.
Here is a list of the Canadian providers and services available in the TV app's new Sports tab, which debuted in the United States last November:
Sportsnet — MLB, NHL, NBA, Premier League, WWE, Tour de France, and more

TSN GO — FIFA World Cup, CFL, PGA TOUR, and more

RDS GO — TSN content in French in Québec

DAZN — NFL, MLS, MLB Network, European soccer, tennis, and more

CBC — Calgary Stampede in July, rugby, and more
While it is already possible to simply open the apps listed above and stream sports content, the TV app provides a nice overview of live and scheduled content from each provider in one dedicated place.
If the Toronto Blue Jays are planning on Sportsnet, for example, simply open the TV app, tap on the play button, and the Sportsnet app will open and begin streaming the game. For an upcoming game, tap on the "Up Next" button to receive push notifications when it begins or when the score is close.
iPhone and iPad users can also ask Siri for real-time sports updates, including FIFA World Cup information, or ask to tune into a specific game.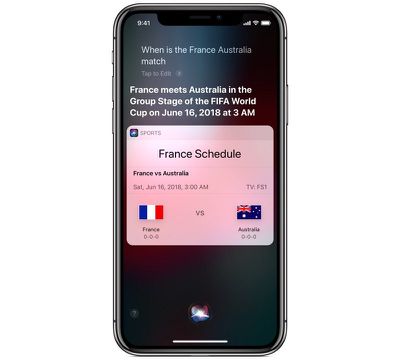 Of course, users must have each provider's app to stream, and some require a subscription or cable authentication. To stream games via the Sportsnet app, for example, users must have a $24.99 per month Sportsnet NOW subscription or authenticate with a cable provider like Bell, Rogers, Shaw, or Cogeco.
Live news in the TV app has also expanded to Canada. CBC News is available for free, or $4.99 per month without ads, while CTV News Go is offered through authentication with a cable provider like Bell or Rogers. Other networks available include CNN, BNN Bloomberg, and online news network Cheddar.