Apple subsidiary FileMaker today announced the launch of FileMaker 17, the newest version of the company's popular database platform designed to make it easy for businesses to create a range of customized apps able to operate effortlessly across iPhone, iPad, Mac, Windows, and the Web.
Version 17 of the FileMaker software focuses on speeding up and simplifying app development through start apps, master-details layout options, and a revamped layout mode, plus it includes an overhauled FileMaker Server Admin Console and a new Admin API.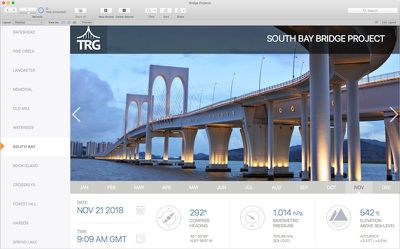 According to Ann Monroe, vice president of worldwide marketing and customer success at FileMaker, version 17 of the platform allows users to do more in less time.
"With the FileMaker 17 Platform, not only can users do more in less time, but they also can do more on the go. Business teams of all sizes are looking to improve productivity, and this launch builds on FileMaker's track record of providing a unified tool for quickly creating and deploying custom apps."
FileMaker customers can start development on apps more quickly with one of six new starter apps that can serve as a base able to be enhanced through connected add-on tables.
Layout tools for custom apps are more easily accessible thanks to a redesigned layout interface that makes tools and customization panes more discoverable, and master-detail layouts can be used to save common design patterns.
New support for sensors allows mobile apps to capture information from the iOS sensors in iPads or iPhones, and on iPads with iOS 11.2 or later, drag and drop support has been introduced, for easily transferring files, photos, links, and more between two apps. Local notifications can also be displayed on an iPhone or iPad when FileMaker Go is not running or is in the background.
The FileMaker Server Admin Console has been redesigned with a more streamlined user interface, and trial access to the REST API for managing and administering the FileMaker server is available. The REST API offers support for a more standardized API format, FileMaker Server scripts, and uploading files to container fields.
FileMaker says FileMaker Cloud support for the new FileMaker 17 Platform features will be available "in the coming weeks."
FileMaker pricing is not changing with the release of FileMaker 17. FileMaker uses a subscription licensing structure for teams of five or more users, with access to FileMaker Server and FileMaker systems across desktop, mobile, and web.
Pricing starts at $15 per month per user for an annual subscription, with discounts available for larger teams. Perpetual licenses, which allow users to access the current version of the software in perpetuity with no expiration date, are also available at 3x the cost. Updates are not included in the perpetual plan options.