StarTech today announced the launch of a new line of bus-powered Thunderbolt 3 Mini Docking Stations designed to be used with the latest Apple Macs equipped with Thunderbolt 3 support.
StarTech is offering two TB3 dock variations -- the Mini Thunderbolt 3 Dock with Dual HDMI, priced at $183, and the Mini Thunderbolt 3 Dock with Dual DisplayPort, priced at $164.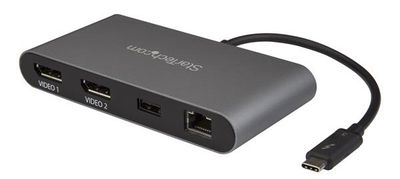 With the dual HDMI dock, two HDMI monitors with 4K resolution can be connected to a Mac, while the dual DisplayPort dock allows two 4K DisplayPort monitors or one 5K monitor to be connected to a TB3 Mac. Each dock comes equipped with an integrated 20cm Thunderbolt 3 cable and because they're bus-powered, there's no need for a power cable.


Both of the docks are small in size making them ideal for use when traveling or in spaces where desk real estate is limited, and both come equipped with a Gigabit Ethernet port. The HDMI dock features two USB-A ports (one USB 3.0 and one USB 2.0), while the DisplayPort dock features a single extra USB-A (3.0) port for plugging in peripheral devices.
StarTech says the two new docks will be available for purchase soon through Amazon.com, Newegg.com, and other retailers.