Third-party Twitter client "Twitterrific" has dropped the price of the latest Mac app -- Twitterrific 5 for Mac [Direct Link] -- to $7.99, down from $19.99. The new price tag marks the lowest that Iconfactory's app has ever been on the Mac App Store, and follows a 50 percent discount to $9.99 that emerged in December 2017.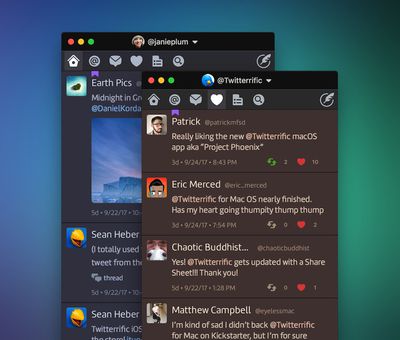 Twitterrific's sale for Mac appeared over the weekend on February 17, the day after Twitter announced it would officially stop supporting the main Twitter for Mac app. Twitter said that it plans to focus its attention on a "great Twitter experience that's consistent across all platforms," confirming that the Mac app wasn't on the company's list of priorities. Beginning last Friday, Twitter for Mac is no longer available to download, and within the next month the company will stop supporting it completely.
While Twitter guided users to the social network's desktop website for the "full Twitter experience on Mac," Twitterrific is now a cheaper alternative for those looking for an app to browse Twitter on a Mac. Twitterrific presents Tweets as they were originally seen on the social network, in a chronological order that filters out other extraneous content, like which Tweets your followers like.


Twitterrific 5 also syncs your timelines across devices (including iPhone and iPad), supports mute filters, has multiple font and text size options, integrates with the Voice Over accessibility feature, and more.

Re-imagined from the ground up to be the Mac's most friendly, powerful and modern Twitter client. Twitterrific makes Twitter fun.

Twitterrific feels right at home on the Mac. Support for Notification Center, Retina displays, built-in sharing, beautiful animations, full-screen mode & more.
With the new $7.99 price tag, Twitterrific has also undercut Tweetbot's $9.99 price on the Mac App Store [Direct Link]. Thanks to ongoing updates and developer support, both Twitterrific and Tweetbot have been better received on the iTunes and Mac App Stores with 4-star ratings, compared to Twitter for Mac's 1-star rating at the time of its removal.