This week Plex announced Plex Labs, a new internal section of the company that focuses on sharing in-depth Medium posts, community ideas, and passion projects created by Plex engineers. The first such project is called "Plexamp," a macOS and Windows app that pulls from your existing Plex music library and accumulates it all into one miniaturized interface (via The Next Web).
The Winamp-inspired app works similar to a native Mac app (so media keys and notifications are supported), plays "just about any music format," can remote control other Plex players and vice-versa, and supports offline playback. More in-depth features include Spotlight-like search for your entire Plex music library, gapless playback, soft transitions when pausing, resuming and changing tracks, and loudness leveling to normalize playback volume across different albums.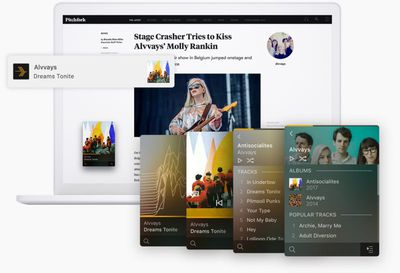 In terms of the interface, the app's default setting appears to be around the size of a miniaturized iTunes player, and it features four different sizes in total "including one that hides the app entirely." Plexamp's minimalism extends into its buttons, which appear when needed and otherwise stay hidden. Plex co-founder Elan Feingold mentioned that the Plexamp team forced itself to think small in terms of the app's footprint, so it could act as a miniature companion to Plex's larger apps.

It all started over a beer — as most great things do — re-envisioning what a tiny and powerful music player might look like in 2017. The most classic and beloved small audio player, Winamp, was first released almost exactly TWENTY years ago. Written in a low-level language, it ran on Windows, and was limited to playing files on the local (or networked) filesystem.

Plex, on the other hand, provides a best-in-class client/server model, an extremely metadata rich library, is highly portable, and gives you access to your entire music collection from anywhere in the world; we wanted to pair this with a similarly excellent music player. Literally the only requirement we had was "small"; Plex has plenty of bigger apps already, but nothing that sits unobtrusively on a desktop, beguiling and delighting. We even forced ourselves to limit the design to a single simple window.
The app also turns albums into art with SoundPrints and visualizers, which change with each album played. The main focus of the app is said to be the discovery of songs within your existing music library, with library stations that track popularity, rating, and listening history to curate music.


These stations include "Library Radio" that picks songs across your entire song catalog, and "Time Travel Radio" that begins with the earliest released music in your library and works its way forward. "Artist Radio" starts with a specific artist and then "explores more corners of your library" within similar genres as the original musician.
Those interested can download Plexamp for free on the Plex Labs webpage, but to use the app you'll need to sign up for a Plex account. Feingold noted that the app might have a few "rough edges" due to its creation by just a handful of Plex employees in their spare time.