Apple Says 'Face With Tears of Joy' is Most Popular Emoji in United States Among English Speakers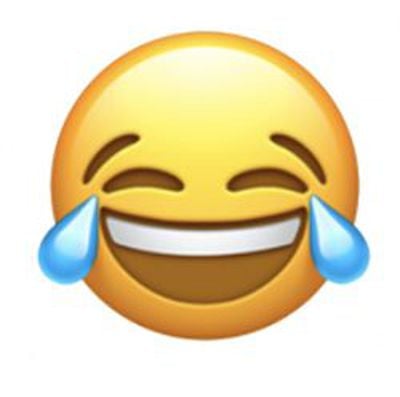 Apple has revealed that "face with tears of joy" is the most popular emoji among English speakers in the United States.
The face topped Apple's list of the top 10 emoji, ahead of a red heart, loudly crying face, heart eyes face, face throwing a kiss, face with rolling eyes, skull, smiling face with smiling eyes, weary face, and thinking face.
Apple's chart isn't labeled, much to the disappointment of anyone who was desperately seeking emoji statistics.


Apple's list of the top 10 emoji is mostly consistent with public data available from Emojipedia and EmojiTracker, with the skull being an exception, according to Unicode's Emoji Subcommittee vice-chair Jeremy Burge.
Apple shared the chart in a recently published overview of its differential privacy technology on macOS Sierra and iOS 10 and later, which allows the company to collect and aggregate anonymized data from a large number of users while preserving the privacy of individual users.
The differential privacy technology used by Apple is rooted in the idea that statistical noise that is slightly biased can mask a user's individual data before it is shared with Apple. If many people are submitting the same data, the noise that has been added can average out over large numbers of data points, and Apple can see meaningful information emerge.
Apple says it uses local differential privacy to help protect the privacy of user activity in a given time period, while still gaining insight that improves the intelligence and usability of iOS and macOS features such as:
• QuickType suggestions
• Emoji suggestions
• Lookup Hints
• Safari Energy Draining Domains
• Safari Autoplay Intent Detection (macOS High Sierra)
• Safari Crashing Domains (iOS 11)
• Health Type Usage (iOS 10.2)
Apple has specifically developed a technique known in the academic world as "local differential privacy":
Local differential privacy guarantees that it is difficult to determine whether a certain user contributed to the computation of an aggregate by adding slightly biased noise to the data that is shared with Apple. But before adding this noise, it's necessary to define a data structure that captures a sketch of user input with a small number of bits. Apple currently makes use of two specific techniques.
In iOS, information being shared with Apple for the categories of data that are protected using Differential Privacy is visible under Settings > Privacy > Analytics > Analytics Data, in entries that begin with "DifferentialPrivacy."
In macOS, users can launch the Console app and view the information under the Differential Privacy category of System Reports.
Apple's differential privacy overview provides many more technical details about the technology, including info about the Count Mean Sketch technique that allows Apple to determine the most popular emoji.