Lines Swell at Apple Stores Around the World as Customers Prepare for iPhone X Launch
As the launch of the iPhone X approaches, customers who are hoping to get one of the new devices on November 3 are lining up at Apple Stores around the world. Lines at many major stores started forming earlier this week, and some people have already been waiting for days to purchase an iPhone X.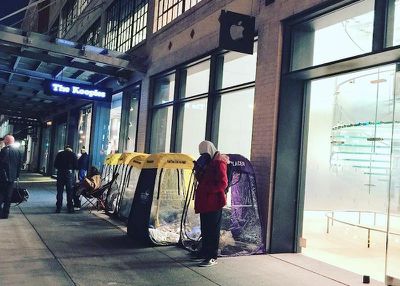 Apple has said that Apple retail stores will have the iPhone X available for walk-in customers, but the company has encouraged people to line up early as the device is in short supply. If pre-orders are any indication, available supply at stores could go quickly.

While we still have just under 24 hours to go before launch in the United States, customers in Australia will be getting their devices not too long from now, followed by those in Asia and Europe, so lines are longer in those countries.

As it gets later in the day, lines, especially in the United States, will continue to grow. Once the first stores open in Australia, we'll get hint at how much stock might be available, but it's looking like supplies are going to be tight.
If you're planning to wait in line to get an iPhone X, make sure to check out our guide for some tips on what to bring and how to choose a store.