Tim Cook Visits China Where iPhone Sales Finally Rebounded Last Quarter After Lengthy Skid
Apple chief Tim Cook was among a group of leaders who met China's President Xi Jinping on Monday at an annual gathering of advisers to the Tsinghua University business school in the capital Beijing, according to Reuters.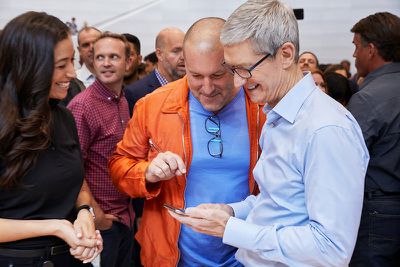 Apple declined to comment on details of his visit. Facebook chief Mark Zuckerberg, who also attended, stated that "every year this trip is a great way to keep up with the pace of innovation and entrepreneurship in China."
The meeting occurred just days before Apple launches its much-anticipated iPhone X in 55 countries, including China, with hopes the high-end smartphone can revive the company's sales in the world's second largest economy.
Apple shipped an estimated 11 million iPhones in China last quarter, up 40 percent from the year-ago quarter, according to research firm Canalys. The strong growth put an end to six consecutive quarters of declining iPhone sales in the region.


Canalys believes Apple's rebound, buoyed by the launch of the iPhone 8 and iPhone 8 Plus last month, could be short lived.
"Apple's growth this quarter is only temporary. The high sell-in caters to the pent-up demand of iPhone upgraders in the absence of the iPhone X. Price cuts on earlier models after announcing the iPhone 8 have also helped. However, Apple is unlikely to sustain this growth in Q4," said Canalys Research Analyst Mo Jia.

Despite being touted as widely expensive, excitement for the launch of the iPhone X is building in China. "While the iPhone X launches this week, its pricing structure and supply are inhibiting. The iPhone X will enjoy a healthy grey market status, but its popularity is unlikely to help Apple in the short term," added Jia.
iPhone 8 and iPhone 8 Plus have quickly "run out of steam" in mainland China, despite being heavily discounted by online retailers such as Suning.com and JD.com, according to the South China Morning Post.
"The iPhone 8 might be the most poorly sold flagship iPhone model in China, as such huge discounts have never been seen before in the country," said Zhao Ziming, a senior analyst at Pintu Tank in Beijing.
While the iPhone X could help Apple in the fourth quarter, its high price and supply constraints might inhibit the company's growth in China in the short term, according to Canalys research analyst Mo Jia.
Apple was the fifth largest smartphone maker in China last quarter, behind local brands Huawei, Vivo, Oppo, and Xiaomi, according to Canalys.