Games Are Most Popular ARKit-Only Apps, Accounting for 62% of ARKit App Revenue
Apps that use the ARKit framework Apple introduced in iOS 11 have been installed 3 million times around the world since September 19, according to new data shared today by analytics firm Sensor Tower (via TechCrunch).
Many of the ARKit-only apps that are available are games, accounting for 35 percent of ARKit apps worldwide. ARKit-only apps include those that are built entirely around the new ARKit technology, rather than apps that have added some ARKit features.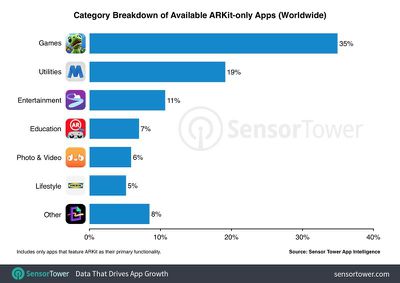 Utilities are the second most popular ARKit category, accounting for 19 percent of apps, while 11 percent of ARKit apps are in the Entertainment category and 7 percent are in the Education category.
Many of the top ARKit-only apps are games, with four games among the top five highest-grossing ARKit apps. Titles like AR Dragon, Zombie Gunship Revenant, The Machines, and Monster Park -- Dino World have proven to be the most popular AR games with consumers.


Games have accounted for a total of 53 percent of all ARKit-only app downloads and 62 percent of ARKit app revenue since the launch of ARKit.
With games taken out of the top app listings, apps that allow users to measure 3D spaces or demo furniture are some of the top performers. Among free apps, IKEA Place, the furniture app from IKEA that lets consumers see products in their homes before purchasing, is one of the more popular apps.


Sensor Tower's data covers only apps that are primarily focused on the augmented reality experience and it did not take into account apps that offer limited ARKit content like photo modes or mini games.
When iOS 11 launched on September 19, ARKit became the largest augmented reality platform in the world thanks to the huge number of iPhones and iPads out in the wild.
Apple CEO Tim Cook just this week said augmented reality may not be huge right now, but that it will experience a "dramatic" climb to take over the world much like the App Store did when it was first launched.