Jony Ive Talks Design, Steve Jobs, Future Tech and More on Stage at TechFest 2017
Apple design chief Jony Ive spoke this afternoon at TechFest 2017, an event held in New York City. Ive sat down for an interview with The New Yorker editor David Remnick to answer some questions about his design philosophies, his time at Apple, and what it was like working with Steve Jobs, who served as a "wonderful teacher" for Ive.
Ive's TechFest talk wasn't streamed live, but Business Insider was on hand at the interview and shared a live blog with some of Ive's responses and discussion points, and The New Yorker also shared several quotes on its Twitter account.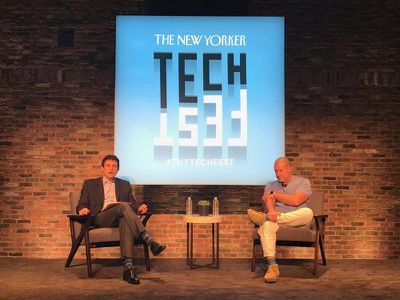 Perhaps the most interesting part of the conversation centered on upcoming technology Apple is exploring. Ive said that there are "certain ideas" Apple has in mind, and that the company is "waiting for the technology to catch up with the idea." In response to a question about whether he was still hungry for new designs and new products, Ive answered "Absolutely."
He went on to say that there are "many opportunities" around displays, and as silicon becomes smaller and more efficient, "the opportunities are extraordinary." Ive also says he's excited about AI and the kind of "good tools" it can lead to.

"The phone we just announced a few weeks ago. That technology is something we'd been working on for five years. We had prototypes. This is an interesting one, theres's a tendency, and I understand it, with the benefit of hindsight, it all seems inevitable."

"For 99 percent of the time, it didn't work for us. For 99% of the development cycle all we had were things that failed."
Developing new products, says Ive, requires a mix of curiosity and focus, to ask the right questions while staying focused on getting a product into development. "There are 55 reasons it hasn't been done before," he said. "So you have to be so focused, determined." Ive says maintaining that level of focus is "exhausting."
Ive touched on his relationship with Steve and the ideals that Jobs instilled in the company. Money was never the focus for Steve Jobs, even when he returned to the company and started making major cuts to the product lineup at the time. "The focus was 'the products aren't every good, are they. Let's focus on making some good products,'" said Ive.
Sometimes design inspiration at Apple comes from poorly designed products, and that was the case with the iPhone. According to Ive, a loathing for the current phones at the time motivated Apple to come up with something new. "You think there has to be a better way of doing it," said Ive.
Apple executives have said several times that Apple's products are designed for people and not for profit, a sentiment that Ive echoed in his interview. "Most things are built in an opportunistic way, to a cost, or to a schedule, they're not built to people," he said.
On the topic of design overall, Ive says that he remembers the process most fondly, not the product. He says he's been fortunate to work with extraordinary people. "If I get to sit down for 2 hours with one of the world's best silicon chip designers, I could not be happier," said Ive.