Apple Watch Series 3 Teardown Reveals Larger Battery and Air Vent Moved Next to Diagnostic Port
iFixit has completed a teardown of the Apple Watch Series 3, which has a virtually identical form factor as previous models.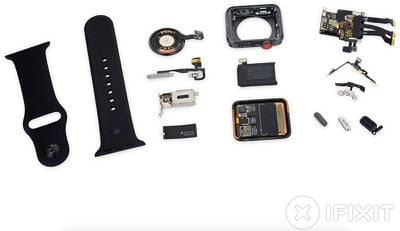 The display is unchanged from the Series 2, with one key difference being that it now functions as a multifrequency antenna for cellular. Series 3 models support LTE and UMTS, according to Apple's tech specs.


The battery in the 38mm model with GPS + Cellular has a capacity of 279 mAh at 3.82V, or 1.07 watt hours, which is only a slight increase of about 3.8 percent over the 38mm Series 2 model without cellular.
Apple said Series 3 models with cellular get up to 18 hours of battery life, including four hours of LTE and 14 hours of connection to an iPhone via Bluetooth. Series 2 models are also rated to last 18 hours with mixed usage.


iFixit was surprised that Apple managed to increase the battery size while still leaving room for the added functionality of cellular antennas, radios, power amplifiers, the embedded SIM card, and so on in the same form factor.
The embedded SIM, outlined in red, appears to be sourced from ST Microelectronics, and it is positioned next to a Wi-Fi module from Broadcom and other RF chips that enable cellular capabilities in the watch.


Last, we finally know what the tiny meshed hole is next to the diagnostic port: it's an air vent, since the Apple Watch Series 3's new barometric altimeter took over the vent's previous location next to the microphone.

Apple Watch Series 3's relocated air vent outlined in yellow
iFixit gave the Apple Watch Series 3 a repairability score of 6 out of a possible 10 points. Display repairs and battery replacements are both possible, albeit tricky, but replacing any of the component cables requires micro-soldering.