iPhone 8 Manufacturing Issues May Lead to Extended Supply Shortages and Shipping Delays
Apple's upcoming OLED "iPhone 8" with an edge-to-edge display and facial recognition faced multiple production issues early in the manufacturing process, which is likely to result in "extended supply shortfalls and shipping delays," reports The Wall Street Journal.
The production problems have led to a setback of "about a month" in Apple's manufacturing timetable, but Apple supplier Foxconn is ramping up development and working to hire new employees.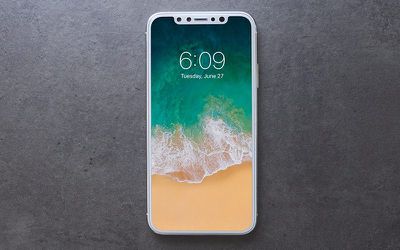 Today's report is nothing we haven't heard before. KGI Securities analyst Ming-Chi Kuo has said for months that he expects the iPhone 8 will be hard to come by until early 2018, and we've heard several rumors pointing towards problems with the display lamination process and other high-tech components like the 3D sensor embedded at the front of the device. The Wall Street Journal points to OLED assembly as a major reason for the delays.
Apple and its suppliers also ran into trouble manufacturing the OLED displays. The display modules are being produced in Vietnam by an affiliate of Samsung Electronics. Unlike the OLED display module in Samsung's own smartphones, in which the display and touch panel are integrated, iPhone's display module has the touch panel outside of the display, according to a person familiar with the technology.

The iPhone manufacturing process requires more steps and more layers of adhesive and protective film than are involved in Samsung's manufacturing process, the person familiar with the process said, creating a greater risk of manufacturing error.
Apple also wanted to add Touch ID to the display of the new device, but it "proved difficult," leading Apple to abandon the fingerprint sensor and lose valuable time as deadlines loomed.
While we hear rumors of supply shortages each and every year, it's worth noting that this year's rumors are both more concrete and more dire. If Kuo's predictions are correct, many of us hoping to get our hands on a new device could be waiting for weeks or months as Apple works to ramp up production.
Extended shortages may also impact Apple's holiday sales period, which is often the company's strongest, but because there's also a new iPhone 7s and 7s Plus on the horizon, it's difficult to determine the effect extended iPhone 8 shortages might have on the company's Q4 bottom line.
Customers hoping to get an iPhone 8 as soon as possible will want to pre-order the device right when it goes on sale. It's not entirely clear yet if the iPhone 8 will be available shortly after being introduced on September 12 or if the supply issues will lead Apple to delay shipments beyond September.