Popular note-taking platform Bear received an update on Wednesday across Mac and iOS that adds a number of community-requested features to the Apple Notes rival.
Top of the feature list in version 1.2.2 is the ability to highlight parts of notes in a neon color to indicate importance, by bracketing text in "::" tags.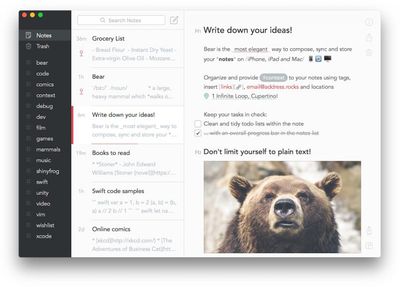 Over on the Mac, it's now possible to break out Bear notes into separate windows for easy reference between multiple entries, simply by double-clicking them in the notes list.
To simplify organization, Bear 1.2.2 also has a new option to edit note tags right from the sidebar and notes list. To do this on Mac, click a tag in the sidebar to view all notes with that tag, and then right-click any note and select "Remove tag (X)". The same option can be accessed on iPhone and iPad by tapping a tag in the sidebar, swiping left on a note, and tapping More.
In addition, the app has gained some new advanced search options or "Special Search" triggers. It's now possible to add "@today" or "@yesterday" to searches to find notes with those creation dates. The new functions join existing triggers such as "@untagged" to find all untagged notes, "@tasks" for all notes that contain tasks, and "@files" for notes that have attachments.
Elsewhere, there's new shortcuts for quickly inputting the current date/time in various formats, a new Print Note option and note counter at the top of the notes list, while an AirDrop option has been added over on iOS Share Sheets. It's also now possible to share notes as rich text.
Bear is available to download on the App Store for iPad and iPhone [Direct Link], as well as on the Mac App Store [Direct Link].