Feral has announced that Sid Meier's Railroads!, the classic "tycoon" strategy game released on PC in 2006, has been updated on Mac to include full compatibility with Apple's latest macOS platform.
If you missed Sid Meier's Railroads! last time around, the game is a re-imagining of the best-selling Railroad Tycoon, which was released in 1990 for Amiga, Atari ST, and MS DOS. The game has been in dire need of a compatibility and stability update for several years, so today's announcement should come as good news for die-hard fans.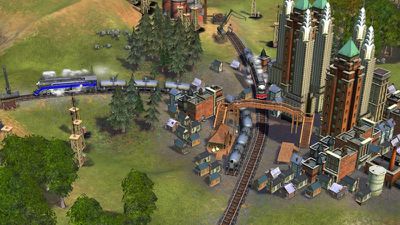 Like the original, players are tasked with constructing a rail empire across one of four locations: the Western United States, the Northeastern United States, Great Britain, or continental Europe.

Lay track, route trains and watch the world come to life in this compelling mix of train set and business simulator. Become the ultimate railroad robber baron with the drive to shape a nation, build an empire and amass a fortune.

Spanning the history of the railroads from the steam engines of the 1830s to the bullet trains of today, Sid Meier's Railroads!, out now on Mac, is a bold re-imagining of the legendary Railroad Tycoon (1990) that launched the "tycoon" genre.
Players get to control 40 historically accurate trains across seven historical scenarios and over 150 years of American and European history. Features at the disposal of budding tycoons include corporate warfare, demand and supply, stock trading, patent bidding, and industry building. A LAN multiplayer mode also lets players sabotage their rivals and monopolize the industry.
Minimum requirements for the game are as follows: MacOS 10.12.4 or later, Intel 1.8GHz processor, 4GB RAM, 2GB disk space, and 256MB graphics memory. The following graphics cards are not supported: ATI HD2xxx series, ATI X1xxx series, Intel GMA series, Intel HD3000, Nvidia 9xxx series, Nvidia 7xxx series, Nvidia 1xx series, and Nvidia 8xxx series. The game is not currently supported on volumes formatted as case-sensitive.
Sid Meier's Railroads! is currently on offer at the special price of $2.49 on the Steam store until May 29. The game is also available on the Mac App Store ($17.99) and direct from Feral's online store ($9.99). Existing owners of the game should see an update in the Mac App Store.