Apple and Visa have been sued by a small company based in Boston this weekend, which claims that Apple Pay violates 13 patents that it holds related to digital payment systems and user authentication technology. The company behind the lawsuit, Universal Secure Registry, filed the complaint in a Federal District Court in Delaware on Sunday (via The New York Times).
According to the filing, USR chief executive Kenneth Weiss "was the first in the space, and the secure payment technology that he developed goes right to the core of Apple Pay." Specifically, Weiss' company is claiming that the 13 patents include details on authentication systems embedded in smartphones, biometric ID confirmation through fingerprint scanning, and the generation of secure, one-time-use tokens in financial transactions.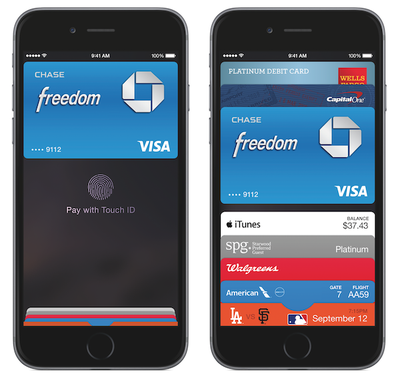 According to Weiss, he had "extensive meetings" with Visa in 2010 that centered around working together to introduce a mobile payments system into smartphones, which allegedly lead to Visa signing a 10-year nondisclosure agreement with Weiss and his company to be able to use the technology. Weiss said that Visa eventually "dropped further communication without securing a license," and that any inquiries he wrote to Apple in asking the Cupertino company to license his technology were never answered.
Then, Visa began working with Apple on a partnership that eventually lead to the debut of Apple Pay in 2014, which the lawsuit claims to have been built with the "willful infringement" of USR's patents. Weiss is now seeking damages in relation to Apple Pay and Visa's alleged patent infringement, represented by Quinn Emanuel Urquhart & Sullivan, which advised Weiss to file a suit before seeking a license agreement or royalties from Apple or Visa.

This suit seeks unspecified damages, but details the scope of the infringement, claiming, "since 2014 Apple's backend servers and Visa's payment processing network VisaNet, including Visa Token Service, have supported and processed transactions made using Apple Pay, including billions of Apple Pay transactions made in the United States."

"It is not uncommon for large companies to be unresponsive to outside suggestions for innovation or improvements to their product or technology," said Weiss. "Occasionally, these companies infringe patents and force a patent owner to file a lawsuit as the only way to financially benefit from the technology he invented."
Weiss founded Security Dynamics and invented the RSA SecurID token system, which is used to secure and authenticate important data sent by major companies, banks, and multiple branches of the United States government. USR is said to hold a portfolio of Weiss' patents related to the new lawsuit, and also including a few pending applications and foreign patents he has filed dating back to 2000.