'Hulu With Live TV' Appears on App Store, Includes FOX, ABC, NBC, CBS, ESPN, and More [Update: $39.99+]
Hulu's anticipated live television service, which was rumored in the past few weeks to launch in early May, has appeared on the iOS App Store [Direct Link] in beta form. Users interested in signing up for the service can adjust their membership and subscribe to live TV from the account and add-on section of Hulu.com.
Officially named "Hulu with Live TV," the company said that this version of the app comes with cloud DVR and the ability to stream more than 50 live and on-demand television channels, including sports-related content.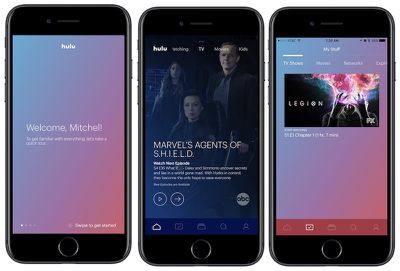 User interface changes include a new onboarding experience, a new home screen, and "My Stuff," so subscribers can manage their shows, movies, networks, and more. A multitasking feature called "Fliptray" will let users watch a show and browse Hulu with Live TV simultaneously.

You'll enjoy features that help you customize how you watch TV:
- Create up to 6 personalized profiles for the whole household. Enjoy your own collection of shows, movies, networks, and more.
- Track your favorites with My Stuff. Add shows, networks, and movies for quick access across your devices.
- The more you watch, the better it gets. Enjoy a reimagined TV experience that adjusts to your tastes every time you use Hulu.
- Browse while you watch with Fliptray to quickly find what else is on, change the channel, or get recommendations of what to watch next.
At launch, Hulu with Live TV has the following channels that subscribers will be able to watch live: FOX, ABC, NBC, CBS, ESPN, FX, NBCSN, FS1, History Channel, and TNT. Certain limitations exist for channels in specific areas, meaning some users will only be able to access on-demand content for major networks like ABC and CBS instead of live streams. Potential subscribers can check out the channels accessible in their area through Hulu's live TV launch page.
Additionally, sports coverage for pro, college, and regional teams will be on the service, along with national news and local feeds in some cities, kids shows, big events, and on-demand shows and movies from most of the supported channels.
Those interested can download Hulu with Live TV now from the iOS App Store in the United States [Direct Link], as well as on Apple TV. It's clear that the app was added onto the App Store ahead of an official announcement, so we'll update this post once more information becomes available.
Update: Pricing for Hulu with Live TV can be found on Hulu.com in the add-on section of the account page. There, it's confirmed that the basic service will cost $39.99/month, while the plan which removes commercials from on-demand content will cost an additional $4/month. Both of these options come with all of the previously mentioned channels, the ability to stream on 2 screens at a time, and 50 hours of cloud DVR storage.


Feature add-ons area also available, allowing users to upgrade their cloud DVR to 200 hours of storage with the ability to fast-forward through commercials (presumably absent from the basic DVR) for an additional $14.99/month. Subscribers will also be able to add unlimited simultaneous viewing on as many screens as they want for $14.99/month. If both are purchased, $10 can be saved.
In terms of free trials, users will be able to try out Hulu with Live TV for one week before having to pay, and each of the feature add-ons can be tested for one month before users are charged.