Apple Quietly Updates AirPods Firmware to Version 3.5.1
Apple today quietly put out a firmware update for the AirPods, bumping the Bluetooth headphones from version 3.3.1 to 3.5.1, as spotted by a user on Reddit. The update to AirPods is automatic for any AirPods in their Charging Case and connected to a nearby iOS device. After making sure the AirPods are connected, users can check their current firmware version by going to the Settings app on iPhone > General > About > AirPods.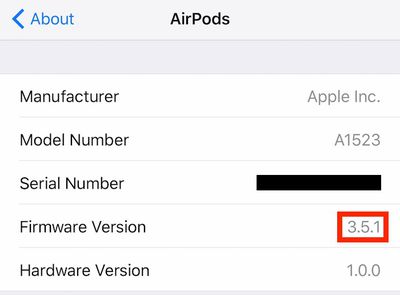 It's not clear what the 3.5.1 update covers due to its silent release and a lack of specific patch notes, but the AirPods have faced a number of complaints over the past few weeks that the new firmware version could potentially be addressing. Mainly, there have been a number of user complaints regarding battery drain issues with the AirPods and the Charging Case, as well as dropped Bluetooth connections when on phone calls on iPhone 6s and iPhone 6s Plus devices.
AirPods launched in December to largely positive reviews from users praising their ease of connectivity with iOS devices, thanks to the W1 chip, as well as their sound quality. Since the launch, the AirPods have been hard to come by both online and in Apple retail stores, with current shipping estimates on Apple.com sitting at the six week mark, arriving mid-March if users order today.