New Mac App Subscription Service 'Setapp' Offers 60 Mac Apps for $9.99 Per Month
Following a beta testing period of more than a month, Mac app subscription service Setapp today officially launched to the public, making a collection of Mac apps available to users for a low monthly fee.
Priced at $9.99 per month, Setapp is designed to be an alternative to the Mac App Store. Through the Setapp service, more than 60 apps across a wide range of categories are available to customers. Access to apps is unlimited and includes all updates and in-app purchase content.
Setapp offers
many popular Mac titles
like RapidWeaver, CleanMyMac, Ulysses, Blogo, CodeRunner, Pixa, Focused, iMazing, Marked, Screens, Pagico, iStat Menus, and more.The team behind Setapp hopes that once the concept catches on with developers, the service will be able to offer somewhere in the neighborhood of 300 apps.
"If you want to get the most out of your Mac, you need great software and if you're like most Mac users, you're probably always on the lookout for new stuff that helps you get more done during your day without wasting too much time or money," said Oleksandr Kosovan, founder and CEO of MacPaw and its Setapp division. "Setapp is the ultimate 'unstore' option that gives you unlimited access to lots of great software without the anxiety of non-refundable, expensive purchases."
To use Setapp, customers install the Setapp app, which creates a folder in Finder on the Mac. The folder includes a library of apps, which users can install and use as long as a Setapp subscription is active.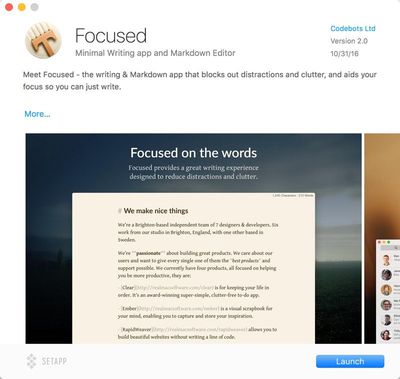 Using one of the Setapp apps does require a subscription, so access is revoked if a subscription is canceled. An online connection is required for updates, but all software can be used offline.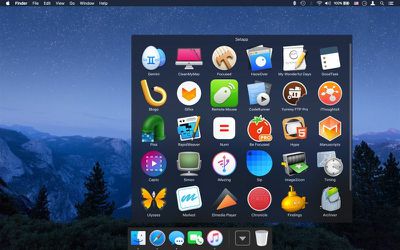 For developers, Setapp aims to provide a steady stream of revenue. The company offers 70 percent of the total revenue generated by their apps, which is based on which applications customers use during a billing cycle. Two-thirds of the remaining 30 percent is also given to developers as part of a partner fee based on the value of each subscriber brought to the platform.
Setapp can be downloaded from the Setapp website for free starting today.