Cross-platform video transcoder Handbrake reached a milestone over the holiday break with the release of version 1.0.0 of the app after over 13 years in beta.
Despite the lengthy beta-test format and the demise of the built-in DVD drive in Apple's Mac line-up, the free open source transcoder has remained the go-to application for converting video files for playback on iOS devices and Apple TVs.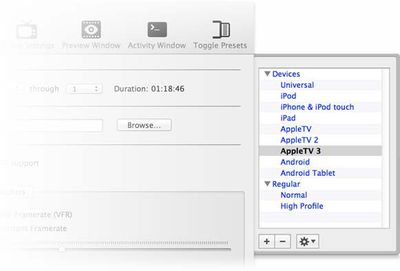 The program has stood the test of time thanks to its ease of use, vast array of options for more advanced users, and extensive video format support.
Version 1 brings a raft of new tools to the Mac version of the app, with updated presets for the latest devices and a number of interface improvements and added settings to keep the app relevant and broaden its appeal. The new features include:
- Updated all tooltips
- Added undo/redo support to the graphical interface
- Improved drag and drop support
- Added Open Recent to the File menu
- Added Add Titles to Queue... to the File menu (batch queueing)
- Preview prompts to open in an external application when the internal player does not support the format
- Preview now displays volume and audio/subtitles language selection during playback
- Picture and Filters settings are now part of the main window
- Settings are preserved when selecting a new title (instead of reloading the last selected preset)
- Improved support for importing/exporting comma-separated (.csv) chapter markers
- Queue is now automatically paused when available disk space is low
- When Done action can now be changed directly from the Queue window
- When Done notification is now interactive (reveals the encoded file in Finder)
- Activity Log window is now searchable (press "?"+"f" to activate)
- XQuartz is no longer required for subtitle burn-in
- Updated Sparkle software update library
  - Enabled DSA signature checking for improved security
- Usability improvements
- Miscellaneous bug fixes
Handbrake is a free download available directly from the Handbrake website.