Opera has added a built-in currency converter to its free web browser to make online international purchases a simpler experience for users (via TechCrunch).
The new feature appears in the browser's Preferences under User Interface options, and can be enabled to automatically show conversions in the foreign currency of choice whenever the user highlights a price on a page. Conversions are calculated using the daily exchange rate from the European Central Bank.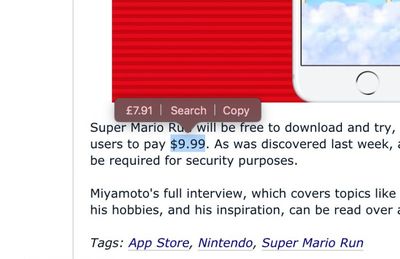 "Cross-border e-commerce is booming all around the world. According to research, within four years, 45 percent of online shoppers worldwide will purchase products from foreign online stores." Opera's Krystian Kolondra said in a blog post. "There are many countries, in which more than 50 percent of people do it already."
The option appears after updating to Opera version 42, and joins the browser's growing list of unique features, such as its built-in VPN and ad blocker.
Opera is currently selling its browser business to a Chinese consortium for $600 million and will see the company's mobile and desktop operations transferred as part of the deal. Opera will continue to own its Mediaworks ad business, apps, and games unit, as well as its TV business, after an initial $1.2 billion deal to acquire these other departments collapsed.
Opera browser is a free download for Mac from the company's website.