Media management service Plex has announced that its Plex Media Player app is now free to everyone. Previously only available to Pass subscribers, the Plex app for Mac is a home theater-style media browser and player for content stored in personal media libraries.
Plex Media Player (which is distinct from the Plex Media Server client app) now features a fullscreen desktop interface where it integrates online files and metadata to present users' media, including artwork and, optionally, movie subtitles. In the latest update, the Player also allows users to queue up movies and music.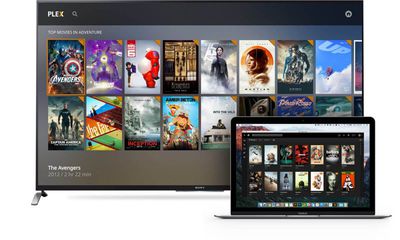 Maybe you pine for stuff like Plex Media Player's silky smooth playback, complex subtitle rendering, and lightning fast seeking on your desktop. Maybe you have a lower-powered NAS server that doesn't like to transcode. Or maybe you'd just like to rock out to some FLAC while you work. Until today, your only option was to find some place to stash a little baby Media Player window and muddle through the TV UI to queue up your background music of choice.

Well, no more: we've harnessed our incredibly powerful Web app and wrapped it up inside our lovely Plex Media Player shell to give you a full-fledged "desktop mode" experience right out of the box. With Plex Media Player running in a window, you can now use your mouse and keyboard as nature intended, and switching to the TV UI is as easy as going full-screen.
In addition to making Plex Media Player a free download, Plex also announced the long-awaited Plex for Kodi add-on. Kodi is a fully extensible, community driven software media center with wide support for playing a range of media content. Exclusively for Plex Pass members, the Plex add-on brings users' Plex-processed media libraries to the Kodi interface for the first time.
You can download Plex Media Player on this page by clicking the 'Get an app' button (third option).
Post updated for clarification.